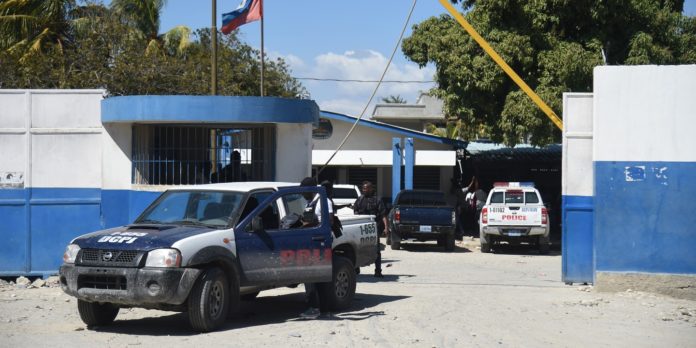 Last month, a curious arrest came and went in Port-au-Prince, Haiti. The incident surrounded the "catch and release" of a band of American mercenaries, allegedly nabbed in flagrante, not in the boudoir, but the national bank.
In what sounds like a Mack Senate two-reeler, this Keystone Cop Operation would be slapstick but for the deadly serious political situation in Haiti now, and its long history of foreigner-engineered disasters.
Kim Ives is a contributing editor at Haiti Liberté, a weekly newspaper published in French, Kreyol, and English. Previously he was a reporter, editor, and photographer for Haïti Progrès.
He's also a past host of WBAI Radio's Haitian news program, Lanbi Call, and documentary film maker whose projects include 'Bitter Cane', 'Ayisyen Leve Kanpe', and 'The Coup Continues' among others.
Ives too is a founding member of the International Support Haiti Network (ISHN), formerly the Haiti Support Network (HSN), and has led numerous delegations to Haiti since 1986 to investigate human rights violations, union struggles, peasant land conflicts, and state-enterprise privatization campaigns.
Kim's recent article, 'American Mercenaries Arrested in Haiti Were Part of a Half-Baked Scheme to Move $80 Million on Behalf of Embattled President', (published in cooperation with The Intercept) broke the story of what was the mission of the the hapless gang who couldn't loot straight.

Chris Cook hosts Gorilla Radio, airing live every Thursday, 11am-Noon Pacific Time. In Victoria at 101.9FM, on the internet at: cfuv.ca, and archived at: www.gorilla-radio.com. He also serves as a contributing editor to the web news site, www.pacificfreepress.com. Check out the GR blog at: gorillaradioblog.blogspot.ca/ and @Paciffreepress on Twitter. Some past guests include: M. Shahid Alam, Joel Bakan, Maude Barlow, David Barsamian, Luciana Bohne, Helen Caldicott, Noam Chomsky, Paul Cienfuegos, Yves Engler, Laura Flanders, Amy Goodman, Glenn Greenwald, Denis Halliday, Chris Hedges, John Helmer, Julia Butterfly Hill, Robert Hunziker, Robert Jensen, Dahr Jamail, Chalmers Johnson, Malalai Joya, Kathy Kelly, Daniel Kovalik, Ingmar Lee, Dave Lindorff, Janos Mate, Stefania Maurizi, Sharmine Narwani, Greg Palast, Michael Parenti, John Pilger, David Rovics, Vandana Shiva, Tim Shorrock, Norman Solomon, David Swanson, Andre Vltchek, Whitney Webb, Andy Worthington, Howard Zinn and many others.