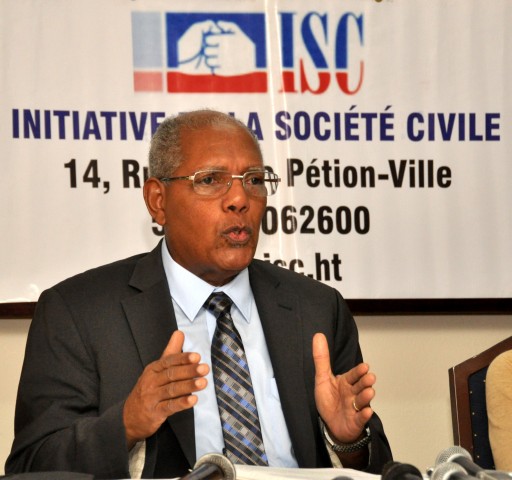 Interim President Jocelerme Privert said this week that Haiti's Oct. 9 elections are "irreversible," calling on government authorities and police to refrain from interference and voters to remain non-violent.
Meanwhile, Haitian and international election observation groups are preparing for the vote, running simulations and collecting candidate programs.
On Sep. 23, Privert addressed the 71st opening session of the United Nations General Assembly in New York.  He told the body that Haitians would vote in two weeks, and that "without honest and credible elections, it is futile to hope for a peaceful political transition." He is scheduled to pass power to Haiti's next elected president on Feb. 7, 2017.
On returning to Haiti on Sep. 26, Privert held a press conference to reassure a jittery nation that the elections are on track.
"On Oct. 9, elections will be held in an irreversible way," Privert declared. "The skeptics, who didn't believe that the government would carry out the elections, are now facing a machine that nothing can stop. The election schedule is going forward just as planned, and there is no delay in its implementation."
With manifest pride, Privert said that "people thought it impossible for the Haitian state to mobilize the funds required by the CEP [Provisional Electoral Council], but today we can say with satisfaction that without upsetting macroeconomic stability and without resorting to printing money, the state has been able to disburse up to $25 million from the Treasury to finance the next election." The entire election, which the U.S. government has refused to financially support, has a price tag of $55 million, including the Jan. 8, 2017 second round.
"What remains now is the issue of security," Privert said. He called on the CEP, government authorities, and the police to adopt a policy of "zero tolerance" of any disruptions of the vote. "These elections are too important for the future of the country," he said.
"Without these elections, on the second Monday of January 2017, there will be no Government, ministers will have no legitimacy, Parliament will be dysfunctional, there will not be, like today, any judiciary because the Supreme Court has only two out of 12 judges with any constitutional legitimacy," Privert declared. "So it would be the collapse of all our republican institutions. That's the importance of these elections."
He appealed for electoral rallies to be held "in peace and with respect for one another" and for political leaders to "urge your supporters to be tolerant and respect the partisans of other candidates."
Privert also warned police officers, prosecutors, and other judicial authorities "to refrain from any interference in the electoral process." Those disobeying this order would be fired, he said. State vehicles are also prohibited from being used to help candidates campaign.
"We want these elections to be carried out without interference from the authorities," Privert concluded. "This is the only guarantee that the elections will be impartial, credible, democratic, and transparent. Candidates, I urge you to demand that the CEP be transparent in all of its decisions, and it is necessary that vote counting be done in the presence of candidates or their representatives. For once, let's give the country elections that everyone accepts as good."
Meanwhile, international observers are beginning to arrive in Haiti, like those of the Organization of American States (OAS) last weekend. The Boston-based New England Human Rights Organization will send an observer delegation of Haitians and North Americans from Oct. 6-11.
In May 2015, three Haitian organizations – JuriMédia, the Ecumenical Center for Human Rights (ECHR) and the Civil Society Initiative (ISC) – joined together to form the Citizen Observatory for Institutionalizing Democracy (OCID). Some Haitians are suspicious of OCID because it is financed and supported by the National Democratic Institute (NDI), an arm of Washington's National Endowment for Democracy (NED). Furthermore, Rosny Desroches, one of OCID's principal leaders, has historically been close to the U.S. Embassy.
On Sep. 25, OCID carried out an election day "simulation" with 1,505 observers and 77 technicians to practice what it plans to do on Oct. 9: collect, process, and disseminate information on how the vote is proceeding.
Some have warned OCID that under the 1987 Haitian Constitution and the 2015 Electoral Decree, only the CEP can disseminate information on the elections as they are being conducted. Critics fear premature OCID reports could interfere with the vote.
On Sep. 22, OCID also released a report analyzing the political programs of four leading presidential candidates: Jude Célestin, Moïse Jean-Charles, Jean-Henry Céant, and Jovenel Moïse. Written by Dr. Fritz Dorvilier, Ph. D, the report purports to analyze, very technocratically, the "strong points" and "weak points" of each candidate's program. Glaringly absent, for unstated reasons, was any review of the program of the Lavalas Family party's Dr. Maryse Narcisse.
In short, both international observer missions like that of the OAS and Haitian ones like OCID will be closely observed themselves by wary voters, who are anxious for elections free from spin and interference. None want an "electoral coup" like that of 2010-11.
Meanwhile, candidates are campaigning around Haiti in a tense atmosphere. Large crowds have greeted the four leading presidential candidates – Dr. Maryse Narcisse (accompanied by former president Jean-Bertrand Aristide) of the Lavalas Family party, former Sen. Moïse Jean-Charles of the Lavalas breakaway Dessalines Children (PD), Jude Célestin of the Alternative League for Progress and Haitian Emancipation (LAPEH), which is close to former President René Préval, and Jovenel Moïse, the candidate of former president Michel Martelly's Haitian Bald Headed Party (PHTK).
There have been sporadic attacks against some of the electoral caravans. Narcisse's entourage encountered rock-throwing in Gonaïves and scuffles in Cap Haïtien. A window on Jean-Charles' car was broken when his electoral caravan was attacked near Cerca-la-Source in the Center Department.