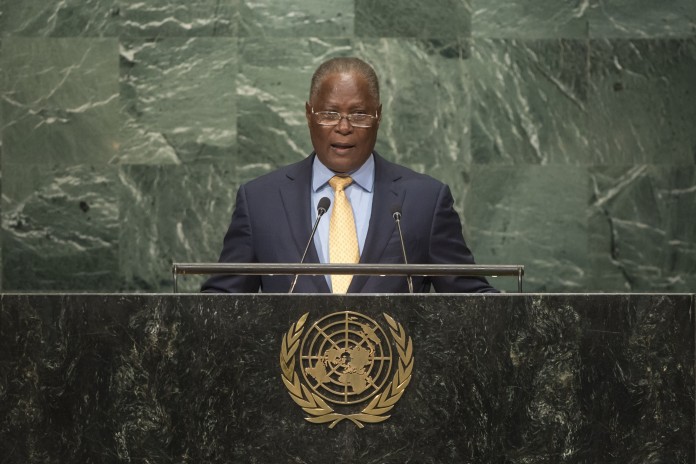 In his Sep. 23, 2016 address to the United Nations General Assembly, Haitian President Jocelerme Privert raised the issue of cholera which UN occupation troops imported into Haiti in October 2010. On-going lawsuits in New York state are seeking reparations for Haitian cholera victims. To date, cholera has killed an estimated 10,000 Haitians and sickened close to one million.
"The resurgence of cholera cases in recent months is one of the most acute challenges now facing Haiti," Privert said in his speech. Haiti's government "has with great interest taken note," he said, of the "UN's recognition of its moral responsibility" for Haiti's cholera epidemic, now the world's worst. UN Secretary General Ban Ki-moon's admission "opens the way to real discussions about [the UN's] obligation to eliminate cholera in Haiti forever" and "for the implementation of a substantially strengthened program to fight against cholera and to assist victims and their families" in a way that "will fully meet the Haitian people's expectations."
Unlike Presidents René Préval and Michel Martelly before him, Privert was commendably the first Haitian president to call out the UN for its responsibility in unleashing cholera in Haiti.
However, Haïti Liberté's director, Berthony Dupont, feels Privert did not go far enough.
"The one word Haitians were waiting for him to utter was 'reparations,' and he stopped short of that," Dupont said.
In a Sep. 21 editorial, Dupont wrote that "the Haitian state seems to be in concert with the United Nations in blocking the way to any proposed reparations for victim families" by "refusing until now to give a medical certificate" that would be "affirmative evidence, ratified by a justice of the peace, so that victims who didn't have the chance to be hospitalized can benefit from any future compensation."