(Français)
On Jan. 31, 2023, Washington flew to Miami four more men allegedly involved in the Jul. 7, 2021 murder of Haitian President Jovenel Moïse, bringing to seven the number of suspects it holds and plans to prosecute in the case.
Three of those flown to Florida are charged with "conspiring to commit murder or kidnapping outside the United States and providing material support and resources resulting in death, and conspiring to do so, knowing or intending that such support and resources would be used to prepare for or carry out the conspiracy to kill or kidnap," the U.S. Justice Department (DOJ) explained in a press release. Those three include two security guards and naturalized Haitian-American citizens James Solages, 37 and Joseph Vincent, 57, along with Colombian mercenary and former colonel Germán Alejandro "Capt. Mike" Rivera Garcia, 44.
The fourth man transferred is naturalized Haitian-American doctor/pastor Christian Emmanuel Sanon, 54, whom the Haitian government formerly alleged to be the plot's mastermind. He now faces in the U.S. a much lesser charge of "conspiring to smuggle goods from the United States and cause export information not to be filed, as well as with smuggling goods from the United States and providing unlawful export information," the DOJ stated.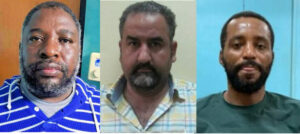 The four new Miami detainees join three others whom the U.S. has held since last year: former Colombian soldier-turned-mercenary Mario Antonio Palacios Palacios, 43; former Haitian drug trafficker and Drug Enforcement Administration (DEA) informant Rodolphe "Whiskey" Jaar, 49; and former Haitian senator John Joël Joseph, 51.
The new arrivals in Miami could provide information leading to the plot's intellectual authors and true financiers, who are likely important political and business figures. On the other hand, their transfer might have been done to keep such information under wraps.
For instance, Joseph Vincent worked as a security agent for former powerful Haitian senator Youri Latortue when the latter was the intelligence and security chief for de facto Prime Minister Gérard Latortue's government from 2004 to 2006, according to a former highly placed government source. Multiple reports also allege that Youri Latortue was a death-squad leader during the 1991-1994 coup d'état against President Jean-Bertrand Aristide.
Vincent also was the "right hand" of a former U.S. State Department official stationed in Haiti, Robert "Bob" Balthazar, according to Haitian lawyer Newton Saint-Juste, who personally knows Vincent. Balthazar was the first person Vincent called for advice after the Moïse operation went bad, Saint-Juste said. Vincent was also a former DEA informant.
Meanwhile, according to the Haitian Times, James Solages was a security guard for and "very close" to Dimitri Vorbe, perhaps the Haitian businessman most bitterly opposed to Jovenel Moïse, who was disputing a lucrative contract that Vorbe had providing electricity to Haiti's power grid. In 2020, Vorbe fled to Florida, where he has applied for political asylum and now lives.
Could we again be seeing those behind another magnicide taking control of the narrative to hide their own involvement and protect their interests?
The four new arrivals are scheduled to be arraigned in Miami's federal court on Feb. 1, 2023 at 2 p.m. before Judge Alicia Otazo-Reyes.
According to Saint-Juste, Solages, Vincent, Sanon, and Rivera may be used to testify against and put pressure on the other three detainees. Originally, Palacios and Jaar were ready to plead guilty in exchange for sentences of under 15 years, but the Justice Department was only offering a minimum term of 30 years, Saint-Juste said. Now "Palacios and Jaar want to change their pleas to 'not guilty,' while Joseph's lawyer is challenging the court's jurisdiction over him," Saint-Juste said.
"It is alleged that on Jul. 6, 2021, Solages, Vincent, Rivera and others met at a house near President Moïse's residence, where firearms and equipment were distributed and Solages announced that the mission was to kill President Moïse," the DOJ press release says. "On Jul. 7, 2021, several individuals arrived outside President Moïse's residence, some of whom were wearing ballistic vests. They entered the President's home and killed him, according to the allegations."
Meanwhile, the U.S. charges that "Sanon conspired with others to ship 20 ballistic vests for use by his private military forces from South Florida to Haiti on Jun. 10, 2021. The vests were shipped without the required export license… [and] export information filings."
Just as Washington is increasingly taking control of Haiti's executive branch, it is now also usurping Haiti's sovereign judicial matters. Furthermore, there are many indications, as we have reported in the past, that the U.S. government may have had involvement in or foreknowledge of the assassination plot.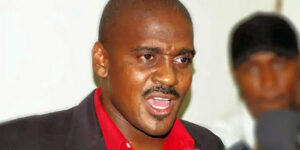 One has only to look at the U.S. government's Warren Commission Report that investigated the Nov. 22, 1963 assassination of President John F. Kennedy. Over the past 60 years, multiple scholars and authors have clearly established that the CIA was the ringleader behind this coup d'état due to JFK's professed desire "to splinter the CIA in a thousand pieces and scatter it to the winds." But who headed the Warren Commission? None other than Allen Dulles, the CIA's principal architect, as detailed in David Talbot's "The Devil's Chessboard: Allen Dulles, the CIA, and the Rise of America's Secret Government." Dulles made sure that the investigation would result in the now thoroughly discredited "lone gunman" theory that Lee Harvey Oswald killed Kennedy by an impossible shot with a ridiculous gun and a "magic bullet."
Could we again be seeing those behind another magnicide taking control of the narrative to hide their own involvement and protect their interests? Time will tell.