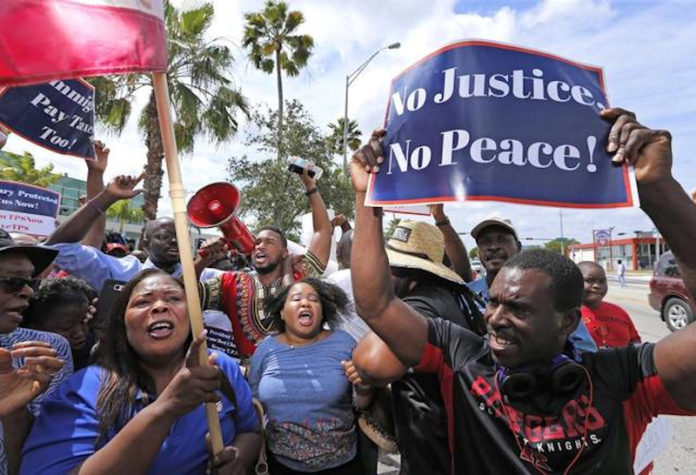 On Mon., Jan. 7, 2019 in New York, a trial will begin to determine the fate of some 50,000 Haitians who live and work in the U.S. under Temporary Protected Status (TPS).
Haïti Liberté, a weekly newspaper with offices in Brooklyn, NY and Port-au-Prince, Haiti, the Family Action Network Movement (FANM), a community organization based in Miami, FL, and nine Haitians currently living in the U.S. under TPS filed the suit against President Donald Trump and his top two Department of Homeland Security (DHS) officials on Mar. 15.
Saget et al v. Trump challenges the Trump Administration's unlawful November 2017 termination of Haiti's TPS designation on constitutional and procedural grounds. Your support is needed inside and outside the courtroom!
U.S. District Court for the Eastern District of New York
225 Cadman Plaza East, Brooklyn, NY
Courtroom 6 H North (Judge William Kuntz, 6th Floor)
9:30 am, Jan. 7, 2019
Persons wanting to attend the trial should arrive early due to heavy security for the trial of the Mexican drug-lord Joaquín "El Chapo" Guzmán in another courtroom. You'll need a form of government ID (for example, driver's license or other) and to leave your phone with security when entering the building. Cell phones aren't allowed in the courtroom.
There will be also be a press conference at 9:00 a.m. on the steps of the courthouse with the plaintiffs, their lawyers, community leaders, and several elected officials.
For political reasons, the White House ignored the extraordinary conditions that have made Haiti a textbook case for the extension of TPS for Haitians.
The trial concerns whether the Trump administration's decision to end Haiti TPS was motivated by President Trump's racial animus towards Haitians and other immigrants of color and made in violation of the statute.
On Jan. 11, 2018, in a meeting with Congressional leaders to hammer out immigration quotas, President Trump referred to Haiti (as well as other countries) as a "shithole," provoking outrage among Haitians worldwide. According to reliable witnesses he also said that Haitians "all have AIDS," and asked "why do we need more Haitians?"
For political reasons, the White House also ignored the extraordinary conditions that have made Haiti a textbook case for the extension of TPS for Haitians: an incomplete earthquake recovery; a cholera epidemic which has killed 10,000 and sickened over 800,000; the worst hurricane to strike Haiti in 52 years; etc.
The decision has been met with three other lawsuits and major demonstrations in the Haitian community.
The judge will decide whether the Trump Administration's decision violated the U.S. Constitution's Equal Protection and Due Process clauses as well as various United States statutes.
The plaintiffs are represented by attorneys Ira Kurzban and Kevin Gregg of the Miami-based law firm Kurzban Kurzban Tetzeli & Pratt, Legal Director Sejal Zota from the National Immigration Project of the National Lawyers Guild; and the law firm Mayer Brown.
Experts with expertise in country conditions in Haiti will testify along with former employees of DHS. Plaintiffs will address the decision's effect on their organizations, lives, and families.
For more information, contact Steve Forester of the Institute for Justice & Democracy in Haiti (IJDH) at 786.877.6999 or steveforester@aol.com, or Haïti Liberté at 718.421.0162 or editor@haitiliberte.com.