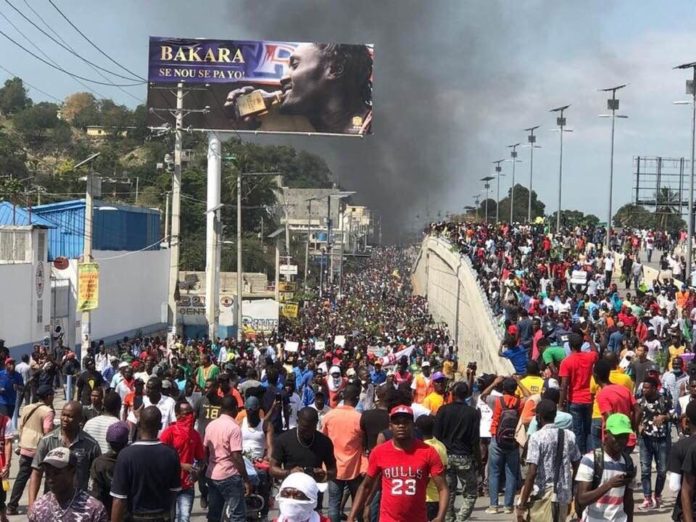 Thousands of Haitians demonstrated on Thu., Feb. 7, in the streets of Port-au-Prince and several provincial cities to demand the departure of President Jovenel Moise and the arrest of the officials responsible for the plundering of the Venezuela-provided PetroCaribe fund over the last 10 years.
At least two dead, three vehicles burned, one police station attacked, 36 arrests, and many wounded, including 14 police officers – that is what Haitian authorities gave as the official figures on the evening of Feb. 7 after a day of nationwide protests.
Demonstrations took place in Port-au-Prince, Gonaïves, Mirebalais, St-Marc, Jacmel, Gonaïves, Cap-Haitien, Mirebalais, Jérémie, and on the island of La Gonâve. They paralyzed the majority of the country's big cities where schools, public offices, and private businesses were closed.
During the protests, demonstrators erected burning tire barricades, broke many businesses' windows, and tried to set fire to the pumps at gas stations.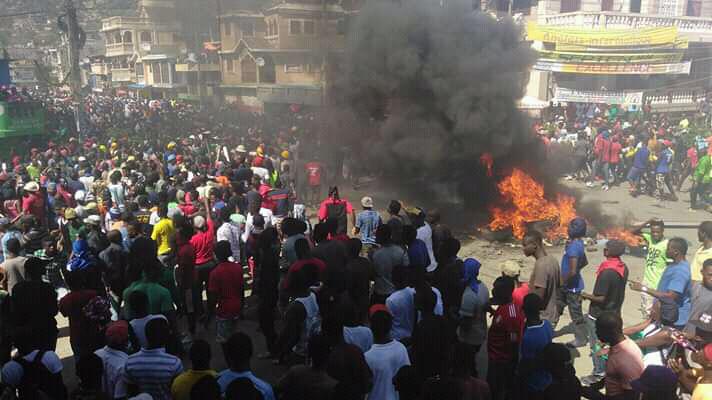 Carrying pots, plates, and leafy tree branches, the protestors were accompanied by drum-pounding rara bands, as they chanted slogans and called for the resignation of President Jovenel Moïse and Prime Minister Jean-Henry Céant's government, while singing anti-government Carnival and traditional protest songs. Carnival falls on Mar. 3-5 this year.
The demonstrators denounced Pres. Jovenel Moïse for not fulfilling his promises. Feb. 7 marked the start of his third year in power, but, in the face of growing protests, it is unclear if he will be able to complete his five-year mandate.
Demonstrations took place in Port-au-Prince, Gonaïves, Mirebalais, St-Marc, Jacmel, Gonaïves, Cap-Haitien, Mirebalais, Jérémie, and La Gonâve.
"Jovenel does not do anything serious in the country," said one of the protestors, who were mostly young women and men. "He must leave."
This first major nationwide demonstration of 2019 marks the 33rd anniversary of dictator Jean-Claude "Baby Doc" Duvalier's departure to France in 1986 after 15 years of iron fist rule. His father, François "Papa Doc" Duvalier, had come to power in 1957 and five years later established the Tonton Macoute-enforced "Presidency for Life," which Baby Doc inherited.
Haiti is facing a crippling socio-political and economic crisis. Hunger, unemployment, and inflation are growing. The cost of food and other necessities is increasing daily at the headlong rate the national currency depreciates. In 1986, the gourde was fixed at five to one dollar. Now 83 gourdes buys a dollar, up from 65 when Jovenel Moïse came to power two years ago.