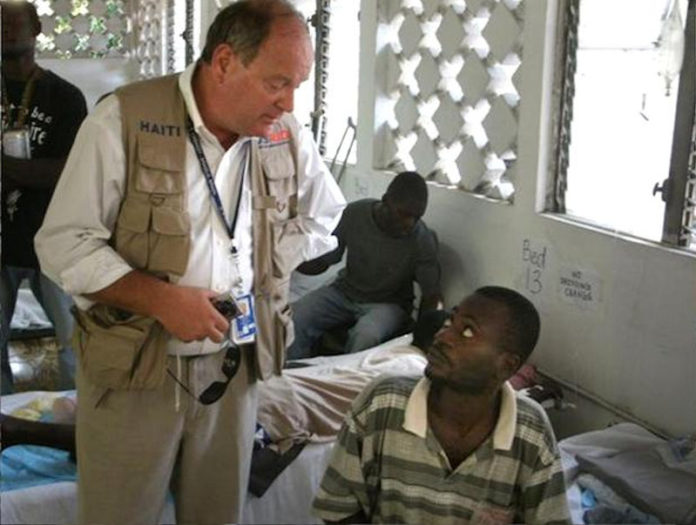 Disaster capitalists were flocking to Haiti in a "gold rush" for contracts to rebuild the country after the Jan. 12, 2010 earthquake, wrote the current U.S. Ambassador Kenneth Merten in a secret Feb. 1, 2010 cable obtained by WikiLeaks and reviewed by Haïti Liberté.
Lewis Lucke: "the earthquake represented as much an opportunity as it did a calamity."
"THE GOLD RUSH IS ON!" Merten headlined a section of his 6 p.m. situation report – or Sitrep – back to Washington. "As Haiti digs out from the earthquake, different [U.S.] companies are moving in to sell their concepts, products and services," he wrote. "President Préval met with Gen Wesley Clark Saturday [Jan. 30] and received a sales presentation on a hurricane/earthquake resistant foam core house designed for low income residents."
Former U.S. Presidential candidate and retired General Wesley Clark was promoting – along with professional basketball star Alonzo Mourning – InnoVida Holdings, LLC, a Miami-based company, which had pledged to donate 1,000 foam-core panel built house for Haiti's homeless.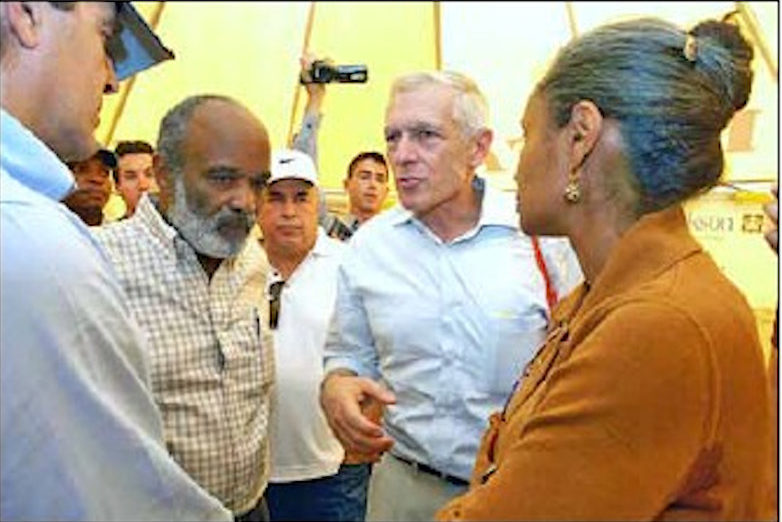 The Pompano Beach, Florida-based disaster recovery company "AshBritt has been talking to various institutions about a national plan for rebuilding all government buildings," Merten continued in his dispatch. "Other companies are proposing their housing solutions or their land use planning ideas, or other construction concepts. Each is vying for the ear of President in a veritable free-for-all."
One man who had the ear of President Préval, perhaps more than anyone else, was Lewis Lucke, Washington's "Unified Relief and Response Coordinator," heading up the entire U.S. earthquake relief effort in Haiti. He met with Préval and Prime Minister Jean-Max Bellerive two weeks after the quake, and at least one more time after that, according to the cables. Lucke, a 27-year veteran of the U.S. Agency for International Development, had overseen multi-billion contracts for Bechtel and other companies as USAID Mission Director in post-invasion Iraq.
Lucke stepped down as Haiti relief coordinator in April 2010, after only three months, telling his hometown newspaper, The Austin-American Statesman, in an interview: "It became clear to us that if it was handled correctly, the earthquake represented as much an opportunity as it did a calamity… So much of the china was broken that it gives the chance to put it together hopefully in a better and different way."
Merten's announced "gold rush" began as Haitians were still being pulled from the rubble.
But in December 2010, Lucke sued AshBritt and its Haitian partner, GB Group (belonging to Haiti's richest man, Gilbert Bigio) for almost $500,000. He claimed the companies "did not pay him enough for consulting services that included hooking the contractor up with powerful people and helping to navigate government bureaucracy," according to the Associated Press. Lucke had signed a lucrative $30,000 per month agreement with AshBritt and GB Group within eight weeks of stepping down, helping them secure $20 million in construction contracts.
Before the lawsuit was settled, Lucke had already joined masonry product supplier MC Endeavors. The firm sent out another of many press releases last month advertising its ability to build homes and applauding Haiti's newly-inaugurated President Michel Martelly's declaration: "This is a new Haiti that is open for business now."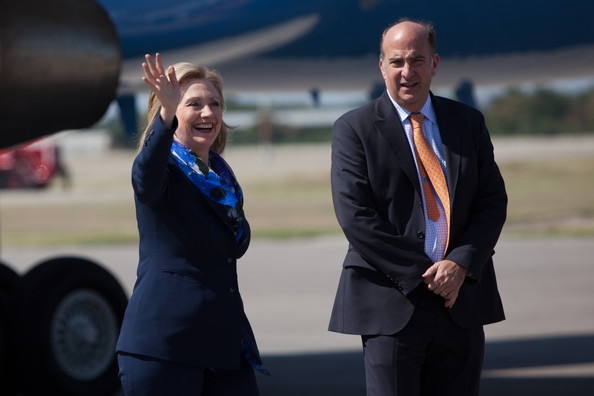 AshBritt and Lucke weren't the only gold-seekers to end up in lawsuits. Just over a year after his benevolent gesture, Innovida's CEO Claudio Osorio was in court being sued by another NBA star, Carlos Boozer, for having "intentionally, maliciously, fraudulently" squandered a $1 million investment by the basketball player in InnoVida Holdings, reported the Chicago Sun-Times of Apr. 24, 2011. The article quotes Boozer's attorney as saying that Osorio misrepresented his business record, lied, and "promised 1,000 percent returns from projects that benefitted disaster-stricken areas" like Haiti. "InnoVida is a defendant to at least 14 known lawsuits, including a blanket lien on the operating factory's assets," the suit states. InnoVida was taken over by a court-ordered receiver Mar. 3.
Ambassador Merten's announced "gold rush" began as Haitians were still being pulled from the rubble. Since then, USAID has doled out nearly $200 million in relief and reconstruction contracts. By this April, just 2.5% of the money had gone to Haitian firms, according to the Center for Economic and Policy Research.
Lucke, for one, justifies making money off of disasters. "It's kind of the American way," he told Haïti Liberté. "Just because you're trying to do business doesn't mean you're trying to be rapacious. There's nothing insidious about that… It wasn't worse than Iraq."