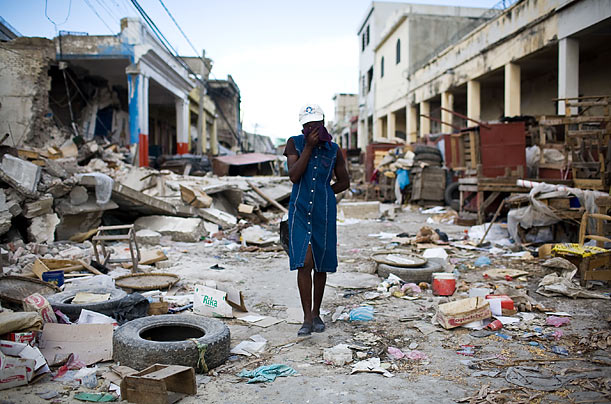 On the seventh anniversary of the 7.0 magnitude earthquake that hit Haiti's capital of Port-au-Prince, human rights groups, faith-based organizations, policy institutes and humanitarian organizations would like to honor those who lost their lives in the earthquake, as well as those who lost their lives in the aftermath of Hurricane Matthew. Haiti's vulnerability to natural disasters is the result of human policies, which can be changed. As the election crisis comes to an end, and President-elect Jovenel Moise is set to take office on Feb. 7, 2017, there's a unique opportunity for sustained change now.
 January 12, 2010 Earthquake
The earthquake and the more than 59 aftershocks that followed took the lives of an estimated 150,000 to 300,000 people, displaced 1,300,000, and directly affected 3,000,000. Despite the billions in aid offered, thousands remain homeless. As of September 2016, the International Migration Organization (IOM) estimated 55,000 people remain in spontaneous or organized camps. For hundreds of thousands of other Haitians "Building Back Better" left them in precarious 'permanent' housing vulnerable to natural disasters and the effects of climate change to which Haiti is ranked one of the most vulnerable countries.
 Hurricane Matthew on October 4, 2016
The Category 4 Hurricane with winds reaching up to 145 mph tore through the country, causing widespread destruction of buildings, agriculture, infrastructure and human lives, directly affecting 1,400,000 people, taking an estimated 546 lives, displacing 175,500, and pushing 806,000 into extreme food insecurity.
The Haitian government, along with civil society, responded to Matthew with prior evacuations and warnings. Various Haitian agencies are now coordinating the hurricane response with civil society actors and international agencies, but funding is greatly needed. The government and UN's Flash Appeal for $21 million to provide food assistance to 800,000 people over three months still lacks 44% of the needed funds.
Many Matthew victims continue to live in temporary shelters or shelters pieced together with scrap aluminum, tarps, and wood. Approximately 750,000 Haitians are without safe water, causing the number of cholera cases to double in some of the hardest-hit areas. An estimated 80-100% of the crops and 50% of livestock were destroyed in the country's south and southwest. These livestock not only provide food, but are the savings bank for many who reside in the countryside – producing a decapitalization in rural Haiti reminiscent of the 1980's Kreyòl Pig eradication.
The devastation of the 2016 hurricane season follows on the heels of the worst drought Haiti has seen in 15 years. The opportunity to replant certain crops during winter planting season was largely missed due to insufficient access to seeds. The ripples of this are felt across the country with the Grand Anse department, the 'bread basket' producing 60% of the locally produced food. The damage to the Grand Anse renders communities dependent on imported food and increased food prices by 15 – 25%.
 Haiti's Future
Although the earthquake, drought and hurricane may make Haiti appear condemned to suffer from natural disasters, in fact the country's extreme vulnerability to natural disasters is the product of human policies that can be reversed. The international community has today a unique opportunity to support Haiti in breaking free from its cycle of extreme vulnerability to natural disasters and climate change, and to move away from aid dependency.
In the short-term, houses, hospitals, roads and schools still must be rebuilt. Haiti also urgently needs support to control and respond to the surging cholera crisis that took 420 lives and sickened 39,329 in 2016 alone. The UN's new two-track cholera response announced Dec. 1, 2016, promises to reduce cholera transmission and improve access to care and treatment. If funded, the response should control the outbreak in Matthew-affected areas as well as other parts of the country, and also promises to provide material assistance to victims of the epidemic introduced by UN peacekeepers in 2010.
The international community must also be reliable over the long term. A key priority must be to fully fund the UN's cholera response, which proposes to build the water and sanitation infrastructure necessary to eliminate cholera from the country over the next 10-15 years. Haiti will also need reforestation and crop support to ensure long-term food security and address environmental degradation and climate change. Furthermore, ongoing support for disaster mitigation and preparedness is badly needed. Preparation is by far the best form of disaster response.
We encourage greater accountability and transparency of international actors in Haiti. With President-elect Jovenel Moise set to take office on Feb. 7, 2017, any intervention in Haiti must reinforce the capacity of the government and local institutions, and include participation in project design and execution from aid recipients. This type of approach will make aid more effective and sustainable, and allow Haitians to move towards autonomy.
In solidarity with the grief suffered by families of victims of the 2010 earthquake and hurricane Matthew, we honor the memories of those who have passed by translating lessons into action. We can and must do better to address the current humanitarian, food and climate crisis.