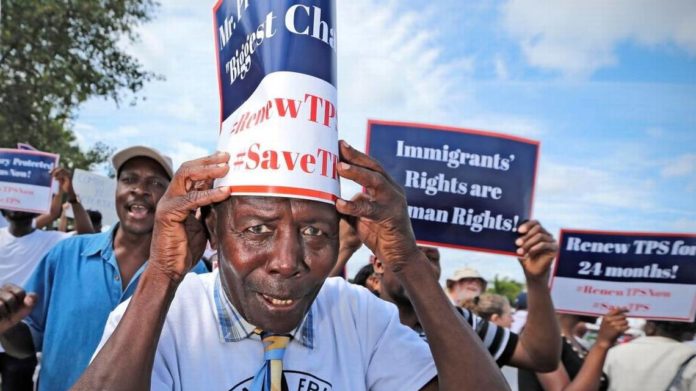 On Nov. 6, the U.S. Department of Homeland Security (DHS) announced that the Trump administration is ending Temporary Protected Status (TPS) for 2,500 Nicaraguans, who have enjoyed it since January 1999. Meanwhile, on Oct. 31, U.S. Secretary of State Rex Tillerson sent a letter to acting DHS secretary Elaine Duke "to inform her that conditions in Central America and Haiti that had been used to justify the protection no longer necessitate a reprieve for the migrants," reported the Washington Post.
These two events have generated a even greater flurry of editorials and organizing, after months of declarations, open letters, and petitions, in support of extending TPS for Haitians.
The conditions for which TPS is in effect remain, making it unsafe for Haitian nationals to return.
The DHS must announce its decision about some 50,000 Haitians, whom the Obama administration granted TPS following the Jan. 12, 2010 earthquake, by Nov. 23. Haitians' current TPS expires Jan. 22, 2018. Once TPS is not renewed, its former recipients are usually given only six months to settle their affairs and leave the U.S..
"Let TPS recipients stay and give them a pathway to become permanent residents" was the headline of a Nov. 6 Miami Herald editorial. It noted that 297,500 other immigrants risk joining the 2,500 Nicaraguans in having their lives "upended" by a TPS termination right when "a group of congressional lawmakers is pushing legislation to create a pathway to legal residency for TPS recipients from Haiti, Honduras, and El Salvador, too."
"Deportations now would be unsafe, seriously destabilizing, and tragic for the 50,000 Haitian TPS-holders, their 27,000 U.S.-born children, and 300,000 relatives who rely on their remittances," said Steve Forester, Immigration Policy Coordinator for the Institute for Justice and Democracy in Haiti (IJDH).  "A contrary conclusion ignores clear facts and truth and would seem driven by an ideological agenda, contrary to the national security interests of either nation."
In a Nov. 3 letter, all 49 members of the Congressional Black Caucus called on Duke "to fully extend Haiti's TPS designation for 18 months by the Nov. 23 deadline in light of the clear conditions that justify such continued treatment, including the damage caused by Hurricanes Irma and Maria, which has exacerbated these conditions."
Several law groups have issued reports arguing for a Haitian TPS extension. The Global Justice Clinic of the NYU Law School issued a 36-page October report entitled "Extraordinary Conditions: A Statutory Analysis of Haiti's Qualification for TPS."
"The conditions for which TPS is in effect remain, making it unsafe for Haitian nationals to return," the report states. "These conditions include a housing crisis that has left families stranded in camps and in unsafe, makeshift shelters to this day; a cholera outbreak, sparked by United Nations troops just 10 months after the earthquake, which has caused nearly 10,000 deaths and more than 815,000 cases of illness — in a country of fewer than 11 million people;  and a period of extreme hunger and malnutrition caused by drought and storms and exacerbated by the economic shocks of the earthquake and Hurricane Matthew. Matthew hit one of Haiti's key food-producing areas."
Deportations now would be unsafe, seriously destabilizing, and tragic for the 50,000 Haitian TPS-holders, their 27,000 U.S.-born children, and 300,000 relatives who rely on their remittances.
The Catholic Legal Immigration Network, Inc. (CLINIC) also released a new 30-page report on Nov. 2 entitled "Protecting Families, stabilizing the region: Why Temporary Protected Status is needed for Haiti."
At least 100 U.S. Congress members have also written to the DHS in recent months to call for an 18-month extension for Haitians, including Senators Charles Schumer (D-NY), Kirsten Gillibrand (D-NY), Cory Booker (D-NJ), Robert Menendez (D-NJ), Edward Markey (D-MA), Elizabeth Warren (D-MA), Bill Nelson (D-FL), Marco Rubio (R-FL), Ron Wyden (D-OR), Sherrod Brown (D-OH), and Benjamin Cardin (D-MD), as well as representatives Yvette Clarke (D-NY), Frederica Wilson (D-FL), Alcee Hastings (D-FL), Ileana Ros Lehtinen (R-FL), Mario Diaz-Balart (R-FL), Carlos Curbelo (R-FL), and Ted Deutch (D-FL).
They have been echoed by the Republican Governors of Florida and Massachusetts, 15 big city mayors, 416 faith leaders, 550 U.S. physicians, eight major editorial boards in at least 15 editorials, the U.S. Conference of Mayors, the Philadelphia City Council, county  commissions,  Haiti's government, and many others.
"The fact that Haiti still suffers from recent extraordinary and temporary conditions warranting an 18-month extension of TPS is well-documented, by academia, media, and even the Haitian government," said IJDH Executive Director Brian Concannon. "Secretary Tillerson's State Department will not even let its employees travel to large swaths of the country. Ignoring this evidence is politics, not fact-finding."
Overseas Haitians send about $2 billion back to Haiti annually, about 25% of Haiti's GDP. The deportation of 50,000 Haitians would reduce these remittances while adding more mouths to feed, further stressing the nation's fragile and battered economy.
Haiti is a textbook case for an 18-month extension.
Created by the 1990 Immigration Act, TPS is granted by the U.S. president (and renewed, usually for 18 months) to immigrants from nations destabilized by an armed conflict, environmental disaster, epidemic, or some other extraordinary and temporary condition. Since 1991, U.S. immigrants from 20 nations have received TPS. Excluding Nicaragua, immigrants from nine nations currently enjoy TPS. Nicaraguans have until Jan. 5, 2019 to leave the U.S.. In a Nov. 6 memo, Duke said she will "seek additional information and thoroughly review the country conditions of Honduras" before deciding what to do about the 57,000 Honduran TPS recipients now in the States.
"Haiti is a textbook case for an 18-month extension," the IJDH concluded in a Nov. 6 press release. "Hurricane Matthew in October 2016 – the worst hurricane to hit Haiti in 52 years – caused $2.8 billion in damages (22% of Haiti's GDP);… recovery from the 2010 earthquake is incomplete, with 40,000 still in Internally Displaced Persons (IDP) camps and 200,000 more in a camp, Canaan, simply renamed a 'settlement.' Secretary Tillerson's State Department issued a Sep. 12 travel warning, noting that Embassy employees cannot even travel to two departments in Haiti's southern peninsula because of security concerns lingering from Hurricane Matthew a year ago."
Congresswoman Frederica Wilson is sponsoring a daily "Tweetstorm," from 11a.m.- noon, to raise awareness about the negative consequences of ending TPS for Haitian nationals. Among the Tweets her office suggests, all with the hash-tag #SaveTPS, are: "Take action and demand an extension of temporary protected status for Haitians. Call @DHSgov 866-794-6052 and urge it to #SaveTPS," "#TPS holders are vetted and legally authorized to work and live in our country. They are our neighbors, friends, coworkers. #SaveTPS," and "Did You Know? It will cost the U.S. gov't $500,000,000 to deport TPS holders to Haiti. #SaveTPS."