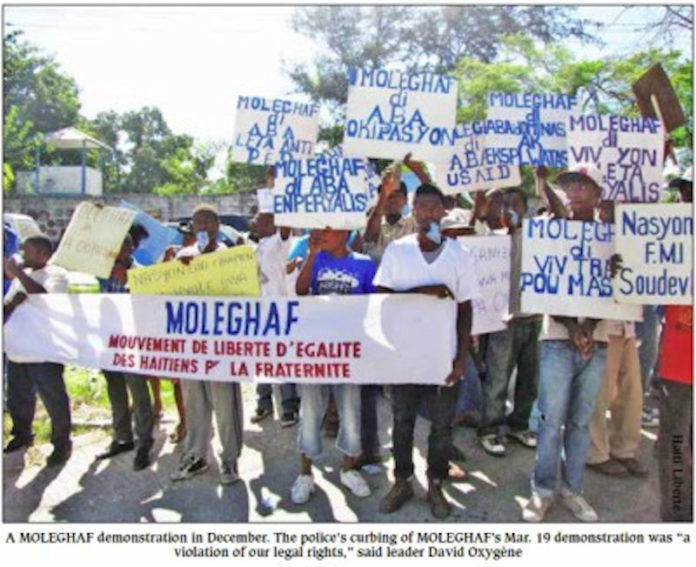 Dozens of people from the teeming Fort National neighborhood of Port-au-Prince took to the streets on Mar. 19 to protest against the government of President Michel Martelly and Prime Minister Laurent Lamothe, whose policies are increasing unemployment, inflation, corruption, poverty, and hunger in Haiti.
            Over nearly two years since Martelly came to power, Haiti has sunk to 161st of 186 countries on the United Nations Development Programme's 2013 Human Development Index (HDI), three spots lower than its ranking in the UNDP's 2011 Human Development Report.
            Fort National is part of the capital's hillside slum of Belair, which has been a wellspring of demonstrations against the 2004 coup d'état, the ensuing U.S./French/Canadian and then UN military occupations, and now the neo-Duvalierist Martelly regime.
            The spirited protest was called by the ever-active National Movement for Liberty and Equality of Haitians for Fraternity (MOLEGHAF), which often holds weekly protests in front of the Social Affairs Ministry. Many demonstrators carried signs saying "Down with Pink Hunger," a reference to candidate Martelly's campaign color. Martelly partisans now wear pink plastic bracelets.
            The demonstrators marched down several streets, but when they arrived at Belair's Rue Sans-Fil, Haitian police diverted them onto the Champ de Mars square, forcing an end to the protest.
            "We provided the police with a clear indication of our march route," explained David Oxygène, MOLEGHAF's Secretary General. "To our amazement, the Police simply imposed another route. This is an arbitrary and illegal action on their part, a violation of our legal rights." Under Haiti's Constitution, demonstrators must notify police before they march but can choose their route. MOLEGHAF had wanted a different march route, ending with a rally at the Haitian Parliament in the capital's Bicentennial Park. Oxygène said the march notification and route had been duly delivered to the Haitian Police's Departmental Directorate of the West (DDO).
            "We will continue to fight for change in the poor popular quarters of the country," said Oxygène, whose group has led many demonstrations denouncing unemployment and poverty over the past three years.
            Last July, Oxygène and another MOLEGHAF leader were arrested at their demonstration in front of the Social Affairs Ministry and held for over two months without charges in Haiti's fetid National Penitentiary.