Along Route National No 1, a few miles before the road reaches Cap Haïtien, there is an inconspicuous small road offering a left turn. Opposite the community well, on the side of the wall drawn around the corner-house is a sign: Dieufel Lamisère, Dance Center. It is easy to miss the turn, even when your eyes are trained to look for it. For those who do not miss, the reward is well worth the effort: the little road will lead them to a small world mostly unseen by foreigners.
Driving or walking up the unpaved, potholed street, the bustle of the thoroughfare soon fades to the background. Lush vegetation, banana and mango trees, colorful flowers on the bushes, birds, and a few passers-by set the scene. Take another left turn, and you arrive at an island within the island, to the compound where the dance center is located.
the atmosphere at the dance company reflects not only his artistic, but also his practical approach to life.
Dance to Save Lives, and its affiliated professional company, Haitidansco, were founded over seven years ago, by Dieufel Lamisère, a Haitian-born, internationally-trained dancer and choreographer. Over the years, he has taught dance, supplied meals, and given support to many Haitian children and youth from disadvantaged backgrounds. From the most talented and dedicated of his students he created Haitidansco, a company that has performed at various festivals in Haiti. Lamisère's work and dedication is not known only in his native country, but in several other places within the wider Atlantic region. He has performed, created choreography, and taught dance in Brazil, in the Dominican Republic, and in the United States. His projects have mostly been private-donation funded since their inception.
Lamisère has a vision. His soul thrives on creation and on the will to never give up, no matter what life throws in his way. Over the many conversations I had with him during my visits to his home, first in Jacmel, and recently in Cap Haïtien, where he moved over a year ago, I heard him say over and over: "I know that this is ambitious and that it will be difficult. But it is not impossible. It is a challenge." I retained that statement's message for my own life.
Overcoming challenge has been a recurrent theme for Lamisère, and the atmosphere at the dance company reflects not only his artistic, but also his practical approach to life.
"I teach my dancers, many of whom I consider to be my children, not only how to dance," he said. "I want to help them find meaning, and a way to express themselves through art, so dance is primary, but I also want them to be able to survive no matter what circumstances they face. So it is important for me to teach them life skills as well."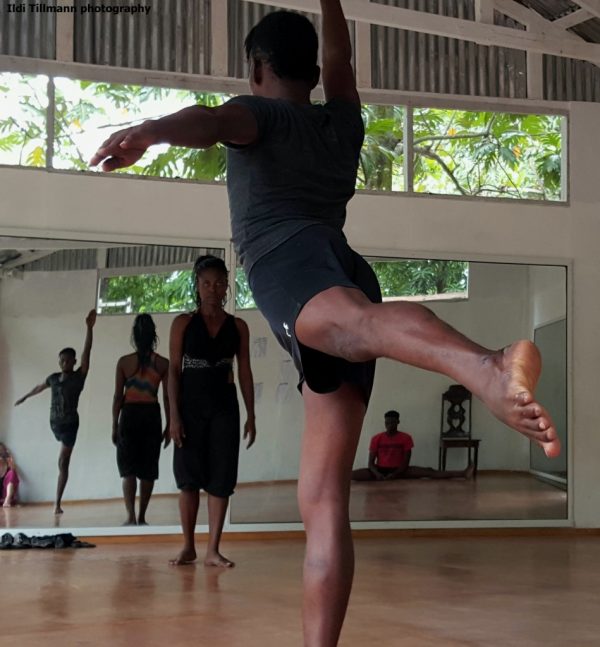 He certainly does. His house serves as the center for the company's artistic activities, but also as a temporary home for dancers who either live in a different town, or, for various reasons, have no place to stay. During Haitidansco's years in Jacmel, when money from donors was frequently scarce, the dancers who lived in the house took care of the household themselves. They cooked, they cleaned, they washed their own clothes, which meant that they had to use the well in the yard for water and wash everything by hand. It never occurred to them that this should, or would, shortchange their artistic path. In Cap Haïtien, they are able to hire some domestic help, but they still look after many of the household chores on their own. They incorporate the mundane with the artistic, creating a seamless flow. The senior dancers participate in teaching at the school, and they contribute their own choreographies to some of the shows.
The space where the compound is located serves as a faithful mirror image of what the company stands for: a dedication to art, and a recognition of the wider, daily realities in Haiti. The rehearsals take place on the raw wooden floor of a stage which they themselves helped build in the yard. The previous one, in Jacmel, was covered with USAID donated tarps to protect them from the sun and the rain. The current one, in Cap Haïtien, is newer and bigger, has a wooden roof and mirrors on most of its walls. Still, it is an open-air stage, in the midst of mango trees, chickens, and goats, not located inside an air-conditioned dance hall. To me, it stands as a quintessential symbol of the beauty, the freedom, and the challenges of life for Haitidansco members, a tribute to their unpretentious individual achievement.
Lamisère's professional qualifications are varied and impressive. Born and raised in Port-au-Prince, he attended the performing arts school, RMT-Regine Mont-Rozier Trouillot, then continued to train with other dance groups following his graduation. In the early 2000s, he spent eight years in New York City, learning with Alvin Ailey and other groups. He founded his own dance company and presented a show in 2008 both in the city, and in Westbury, on Long Island. In mid-2008, he moved back to Haiti, and this is when the idea of a school for young people who would otherwise not be able to experience art and dance, was born.
Lamisère incorporates several styles in his choreography and requires mastery from the students in a variety of dance traditions.
Lamisère incorporates several styles in his choreography and requires mastery from the students in a variety of dance traditions. Classical ballet, jazz, modern dance, and traditional Haitian folk elements are all taught at the center, and they form an integral part of Lamisère's various choreographies for Haitidansco. The company's repertoire, the costumes, the props: all are authentic examples of Haiti's merged cultural, religious, and artistic life, where African notions and traditions exist side by side with the contemporary and the diverse.
"I always wanted my dancers to be familiar with different cultural traditions and dance styles, I want them to be able to dance in many countries and contexts," says Lamisère. "I use different musical genres for my choreographies, Haitian folkloric or Vodou, but also European or American classical and popular music."
Haitidansco plans to have two performances in the United States in the fall, one in Chicago and one in New Orleans. Lamisère wants to include New York in the tour, the city he considers his second home. He already dreamed up a special show for the New York audience, one that would reflect his journey stretching from the city to Haiti, and back. Based on all I know about Lamisère, we have a good chance of seeing them on a New York stage soon.
Ildi Tillmann is a New York based-documentary photographer and researcher who has worked in Haiti regularly over the past two years. She is developing a multimedia project, "Lives in (R)evolution," which shifts the focus from victim-narratives to artistic and individual achievements by individual Haitians.