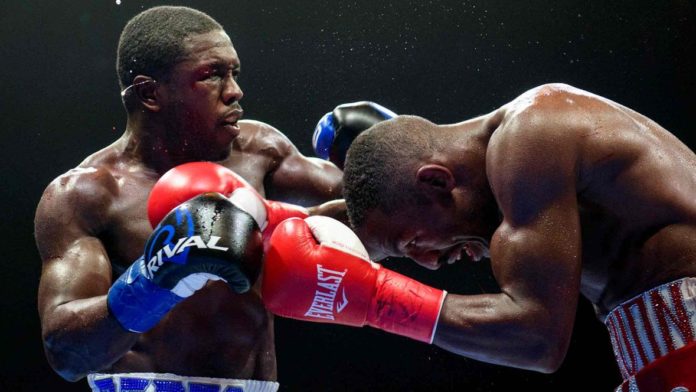 After a 16 month hiatus, former Olympian and former World Welterweight champion André Berto (32-5, 23 KOs), who is of Haitian descent, made a successful return to the ring by defeating fellow former welterweight champion Devon Alexander (27-5-1, 14 KOs) at Long Island's Nassau Coliseum on Aug. 4, 2018.
It was a "crossroads" fight for both fighters. Devon Alexander has been battling opioid addiction as well as top contenders in the ring. André Berto, who is both an American and Haitian citizen, is coming off a 9th round stoppage loss at the hands of Shawn "Showtime" Porter (28-2-1, 17 KOs), making it his fifth defeat in his last nine fights.
Alexander and Berto both made it a rough bout with a lot of punching in the clinch, making the fight difficult to score. A left hand from Alexander in the 3rd round put Berto on the canvas.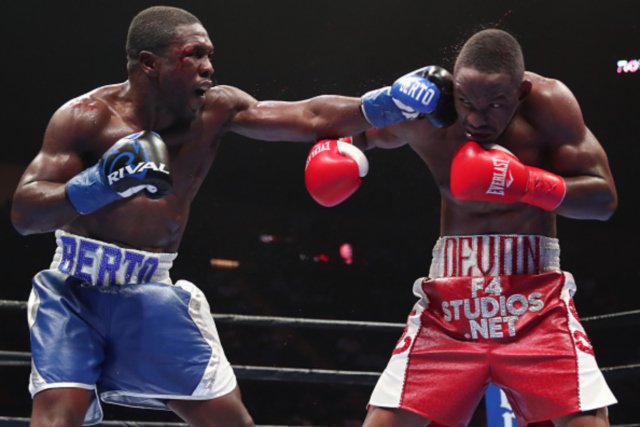 During the exchanges, Alexander seemed to be getting the better of Berto and a cut over Berto's right eye began to slowly bleed in the 7th round. But as the fight progressed, Berto started letting his hands go, firing off bursts of shots in between the clinching.
During the 8th round Berto's groin protector fell off and was kicked to the side to continue the fight. A replacement was put on in between rounds.
Berto rallied in the 12th round and put pressure on Devon, landing some big shots near the middle of the ring. After 12 rounds, Berto was awarded a split decision victory with two judges scoring it 112-115 in favor of Berto and one judge scoring it 114-114 in favor of Devon.
This was a big win for Berto, keeping him in the contender spot from which he could make a bid to regain the welterweight title.
"I've been off for a while but it felt good in there," Berto said after the fight. "I felt like I was in better shape and quicker to the target than he was. He was pulling back a lot of his punches, so I stepped in for my combinations and made him pay. I knew he was going to be quick, and I knew he'd come to fight. I just had to get adjusted to his speed a little bit, and then I started pressing him. This is a tremendous feeling, and I'm looking forward to getting in there and doing it again."
While Berto wasn't sure who he'd fight next, he made it clear he wants to continue securing his financial future. It's refreshing to hear a boxer setting that goal when so many athletes squander their earnings, ending their careers in financial ruin. Berto is a role model for young Haitians: he is family-oriented, has no "baby mama" drama, is no show-off, and stays out of trouble.
In another semi-crossroads bout the same night at the Coliseum, Peter "Kid Chocolate" Quillin (33-1-1, 23 KOs) went up against J'Leon Love. Quillin has battled mental health issues, stating he was suicidal after being knocked out and losing his title in a 2015 match against Daniel Jacobs.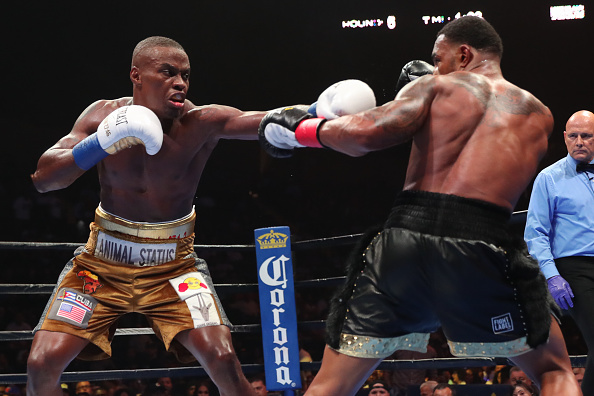 Kid Chocolate looked sharp, landing clean shots and putting pressure on J'Leon, even landing some monster punches in the 8th round. J'Leon had no answer for Kid Chocolate's assault and seemed hesitant to engage, fighting on the back foot. Kid Chocolate was too much for J'Leon and came out on top with a unanimous decision victory.
Also on Aug. 4, WBA World Female Super Middleweight Champion, Alicia Napoleon (10-1, 5 KOs) put her title on the line against Hannah Rankin (5-2, 1 KO). Napoleon dominated most of the fight, retaining her title via unanimous decision.
Sergey Lipinets (14-1, 10 KOs) moved up to welterweight by taking on Erick Bone (20-6, 8 KOs). The fight was back and forth action with neither fighter really hurting the other. After 10 rounds, Sergey Lipinets won by a majority decision.
Brandon Figueroa (15-0, 10 KOs), brother of Omar Figueroa, Jr., took on Luis Roy Suarez Cruz (13-1, 8 KOs). Figueroa won with a 1st round KO.
In other news, Omar Figueroa Jr. (27-0-1, 19 KOs) and Adrian Broner (33-3-1, 24 KOs) took a picture together in which both hinted at a possible future match. These two greats were supposed to fight back in April, but Jessie Vargas stepped in for Figueroa, who had to pull out of the fight due to a shoulder injury. If a Figueroa/Broner match does happen, it will be a big fight for both boxers.