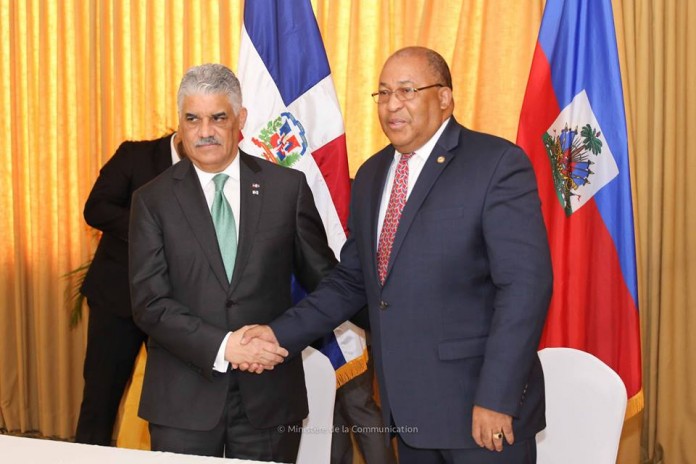 On Tue., Aug. 30, 2016 in Pétionville, Haitian Foreign Minister Pierrot Délienne met his Dominican counterpart Miguel Vargas Maldonado, who visited Haiti for several hours.
"Driven by a common will to work together for the rapprochement our two countries which share this island, we realized that it was quite important and in the interests of our two peoples to strengthen and revitalize the dialogue for tightening and consolidating the links between them," said Mr. Délienne after the meeting.
For the head of Haitian diplomacy, Mr. Maldonado's visit was proof of the Dominican authorities' willingness to work towards harmonizing bilateral relations. He recalled that the two countries share both history and geography, adding that the culture of friendship, development, cooperation, and solidarity are the cornerstones of building their future.
"We have an obligation to strengthen the foundations of a lasting understanding and mutual respect through a fruitful dialogue on all matters of interest to both countries," he said. He emphasized Haiti's desire to maintain good neighborly relations with the Dominican Republic.
"The reality of our bilateral relations spurs us to tackle this task with renewed energy," Mr. Délienne said, asserting that he and his counterpart should not fail at a time when both countries are facing many challenges calling for concerted and sustained action. "The difficulties that affect us every day can be more easily solved with normal relations between neighbors, so our duty is to work tirelessly to overcome them."
For his part, Dominican Foreign Minister Miguel Vargas Maldonado said he welcomed the exchange of ideas on the development of bilateral relations during this new period of the government of President Danilo Medina, who was re-elected in May.
"The goal is to achieve a frank and sincere dialogue in which agreement can far exceed the differences," he said. Mr. Maldonado assured that the Dominican Republic is committed to regional and local security, particularly in fighting trafficking of drug, arms, and humans by transnational criminal organizations.
"I anticipate a greater commitment to fruitful exchanges to combine the best practices of both countries. (…) I can assure you that there is a real interest in working shoulder to shoulder with our Haitian brothers to generate wealth, to strengthen ties, and to build on the strengths to overcome weaknesses," said the Dominican chancellor.
In his speech, Mr. Maldonado praised Haiti's history, while saying that the time has come to sit down and seriously discuss a treaty that would boost bilateral trade, create wealth for both peoples, and strengthen historical trade ties.
"Haiti is a neighbor of dignity tested throughout a history dotted with dramas, but also heroism," he said. "They are a people of surprising energy, who have faced huge adversities without losing social cohesion."
Following this meeting, the authorities of both countries agreed on the need to meet regularly to restore the work of a bilateral joint commission.