HAUT-FOURNEAU, HAITI — Tulien Elucien spends every day in the mangroves of Haut-Fourneau, on the northwestern coast of Haiti. He fishes alone using hooks and strings and sells his daily catch at the market. Tulien has been fishing since he was 12 years old and now, at 45, uses his skills to take care of his family. "Once inside the trees, the children's food is guaranteed," the father of three says.
Tulien says the mangroves bring back many memories, from learning how to fish to taking refuge from bad weather. Not only are these mangroves a lifeline for fishermen and a tranquil place for families to gather and enjoy the coast, but they are also crucial bioshields, forming a natural barrier against floods, storms, cyclones and tsunamis.
Tulien usually earns between 1,500 and 2,000 Haitian gourdes (10 and 13 United States dollars) per fish but says his livelihood and those living in these coastal areas are under threat from those who cut down the mangroves for charcoal, a practice that can only be carried out with permission from the Ministry of Agriculture, Natural Resources and Rural Development.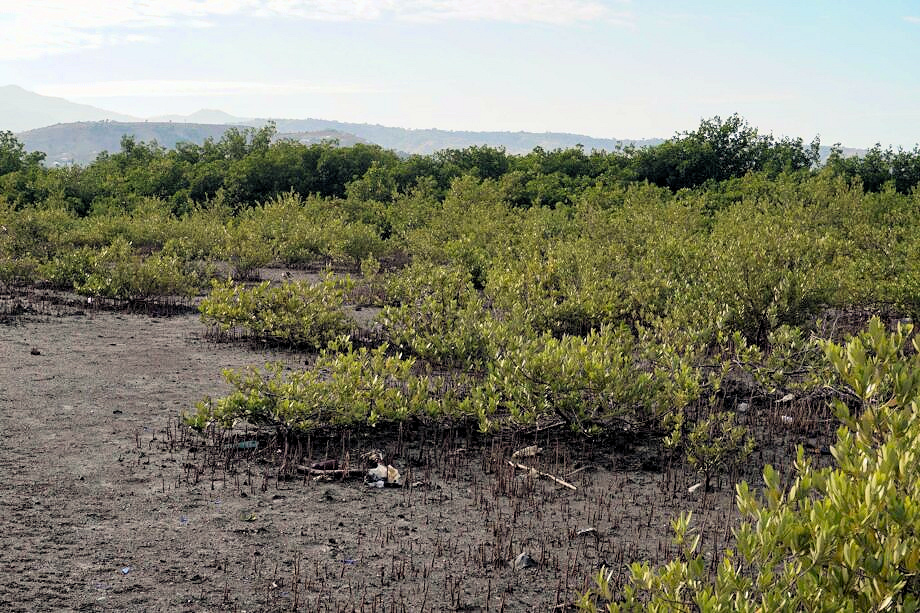 Located 2 kilometers (1.2 miles) west of the city of Port-de-Paix, on the Atlantic coast, Haut-Fourneau is an important ecosystem for the city, home to 250 hectares (618 acres) of mangroves. This expanse is a haven for marine life and a feeding ground for birds. It sequesters twice as much carbon as rainforests, reducing greenhouse gas effects and slowing down global warming. With sea levels rising and the Caribbean country frequently hit by damaging storms, mangroves provide vital protection, but they are one of the most threatened habitats in the world. Everything from shrimp farming to agriculture poses a threat to their existence.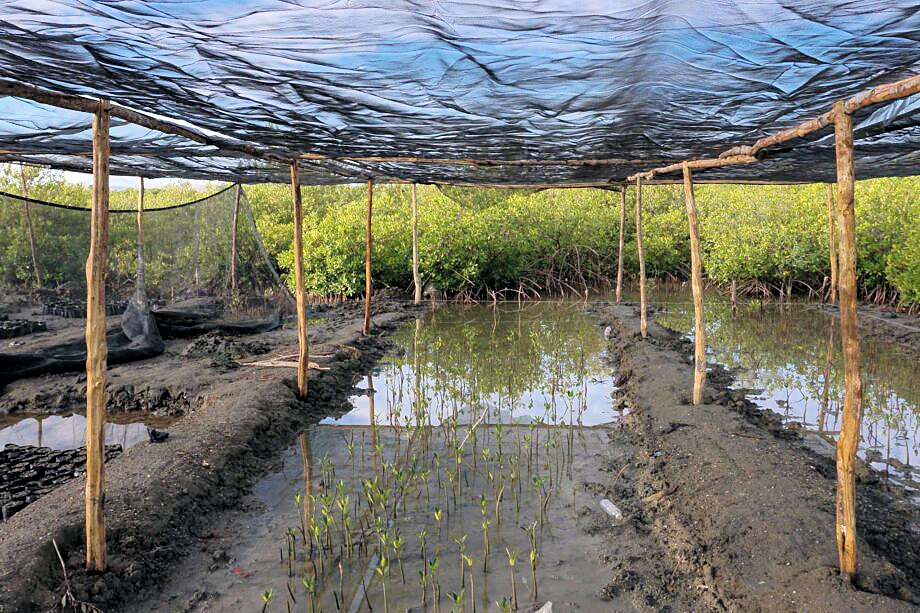 Haiti is listed among the countries that ratified the Convention on Biological Diversity in 1996, a multilateral treaty signed by 196 nations making a commitment to sustainable development. Under this convention, Haiti must better manage its resources and natural areas — including mangroves. But environmental campaigners say the government has not consistently adhered to its commitment.
In a recent study on the issues threatening mangroves, carried out by students from the École Technique d'Agriculture et de Gestion de l'Environnement (ETAGE), an environmental management school, deforestation and trash emerged as top concerns.
The school is part of a Port-de-Paix cooperative called Association pour l'Agriculture Biologique et l'Economie Locale (AGRIBEL). Locéan Saintil, an agricultural technician with the cooperative, says too many people dump their trash in the mangroves.
"The mangroves must be free of garbage — it will destroy it," Locéan says, adding that the ocean also washes a lot of garbage into the mangroves, which then gets trapped among tree roots. According to a 2021 article by Gabriel Grimsditch, program management officer at the Marine and Coastal Ecosystems Unit of the United Nations Environment Programme, "plastic bags and litter cover roots and sediment layers," which "can starve mangroves of oxygen; and can harm sea animals."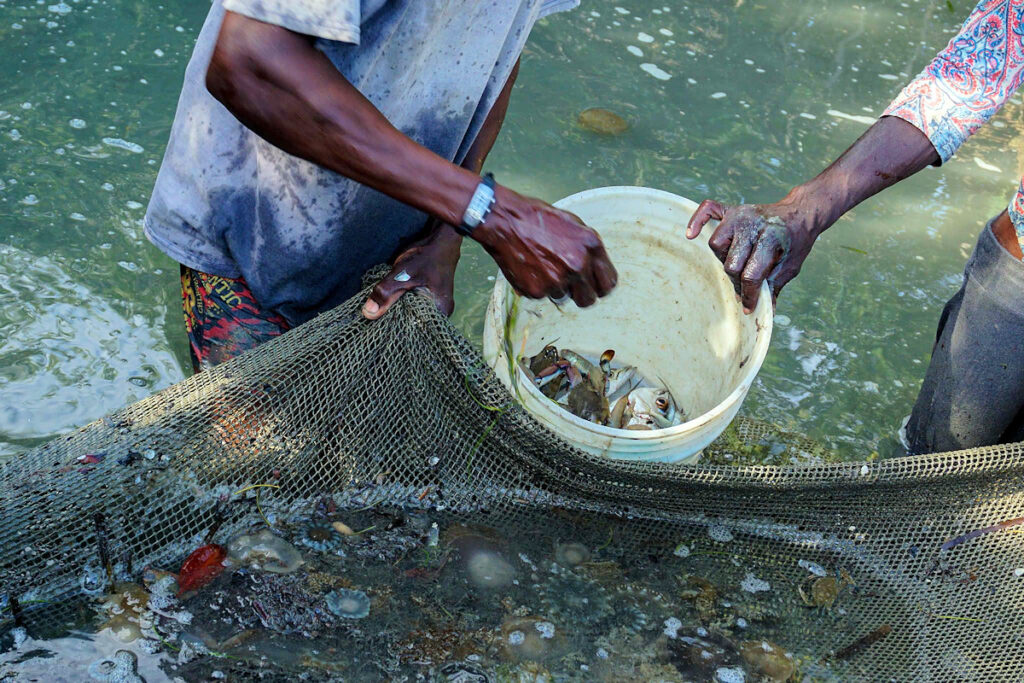 Locéan says too many people aren't aware of the crucial environmental role that mangroves play.
"In the face of climate change, the mangrove is a barrier against storms and the rise of water levels," Locéan says. "If it were to disappear, the inhabitants would be directly exposed to the pressure of the winds and the sea."
Efforts to discourage people from cutting down the mangrove for charcoal have improved the situation, but the practice continues.
Haiti's North-West departmental directorate of the Environment Ministry organized an awareness campaign in 2016, with the aim of drafting a municipal decree that would declare the mangrove area in Haut-Fourneau a protected area. That objective was not achieved, which some blame on changes to political structures in Haiti and a shift in priorities, says agricultural engineer Owell Theock, an agronomist and coordinator of the campaign.
"We cannot do anything without state support," he says, reiterating the need for help to limit human activity in the mangroves.
Theock says the three-month awareness campaign involved 30 outreach agents, who conducted workshops with teachers, students and fishermen on the importance of mangroves, planting and harvesting mangrove seeds, and setting up a nursery. Luckner Noël, North-West departmental director of the Environment Ministry, was unavailable for comment.
Michelet Doreste used to cut down mangrove trees to sell for charcoal but now makes a living fishing the waters of this important ecological area.
"I don't believe cutting the mangrove is to our advantage," Doreste says. "They are a protection against cyclones for us."
Doreste admits he doesn't make as much money from fishing, but says it's a necessary change as human lives depend on the mangroves.
But fishing can also threaten mangroves; fishing for crab, for example, contributes to the destruction of the mangroves because fishermen have to dig up the trees to get to the crabs, which can damage roots. "This causes a complete loss of the plant," Theock says.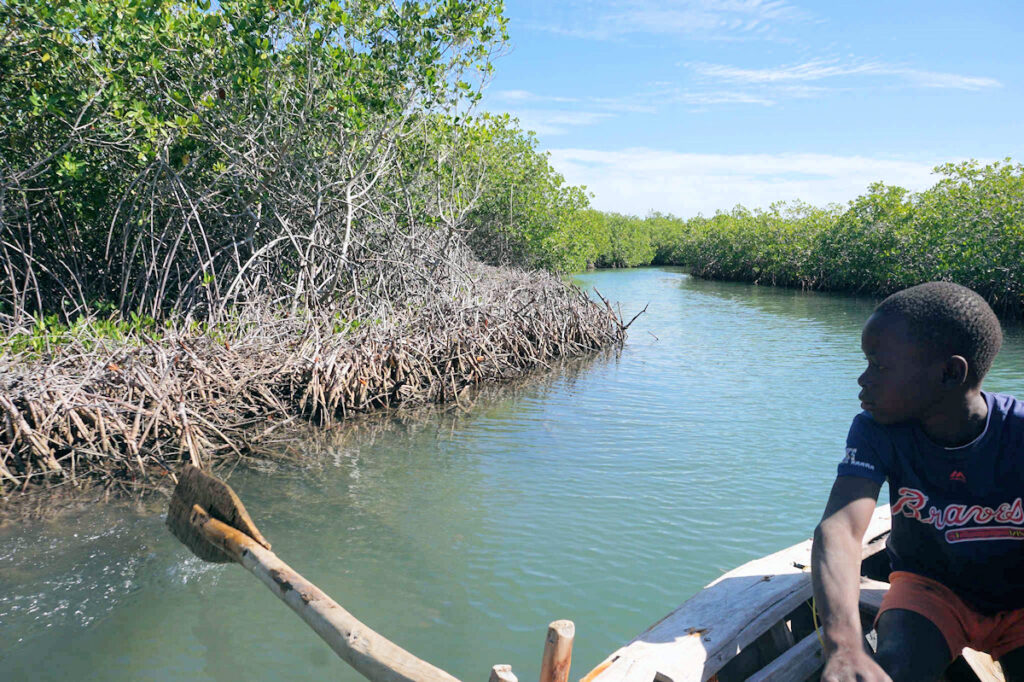 Members of AGRIBEL plan to work with fishermen to ensure that they have the right equipment to fish in the sea, to deter them from fishing in the mangroves. Locéan says the fishing line used in the mangroves would not stand up to ocean fishing.
"The mangrove is the place where fish coming from the sea take refuge to reproduce," Locéan says. "They lay their eggs in the mangrove and leave the small fish to feed and grow until they are strong enough to return to the open sea. The fact that they are caught before they return to the sea prevents the sea from being fertile."
The cooperative has set up a mangrove nursery in Haut-Fourneau and is working on a project to introduce beekeeping to the area, which will help pollinate the mangroves as well as produce honey.
While Tulien attended the workshops to learn more about mangrove conservation and discourages his neighbors and friends from cutting down the mangroves, he still must fish to feed his family.
"After a fishing trip, people will need a lot of money to buy fish from me," he boasts, "because I catch very big fish."
---
Jusly Felix is a Global Press Journal reporter based in Haiti. Megan Spada, GPJ, translated this article from French. This story was originally published by Global Press Journal.