(Français)
"The well-fed man says 'the mango is rotten,'" goes one Haitian proverb. "The hungry man says 'let me see.'"
This wisdom came to mind this week as Washington dangled a tiny carrot while brandishing a much bigger stick in an effort to stem the growing tide of Haitians fleeing poverty and violence in their nation.
Thousands of Haitians began calling their friends and family members in the U.S., hoping to find a sponsor for the new "CHNV Parole Program," which would allow them to live and work in the U.S. for a mere two years.
On Jan. 5, the Biden administration announced that the U.S. would extend the parole program (previously offered only to migrants from Venezuela) for "up to" 30,000 migrants from Cuba, Nicaragua, and Haiti each month. Nobody who entered Mexico, Panama, or the U.S. unlawfully after Jan. 9, 2023 is eligible.
At the same time, the Biden administration doubled down on its commitment to continue enforcing Title 42, a CDC-mandated anti-COVID policy it invokes to expel and block tens of thousands of asylum seekers annually on the grounds that they represent a "public health risk." On Dec. 27, 2022, the U.S. Supreme Court ruled 5-4 to allow the Trump-era law to remain in effect.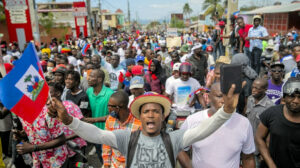 Title 42 expulsions will now increase, with Mexico agreeing to accept expelled Haitians, as well as Cubans and Nicaraguans. Previously, the Mexican government had only accepted the return of its own nationals and migrants from Guatemala, Honduras, and El Salvador.
Now the U.S. will begin expelling monthly up to 30,000 migrants from Cuba, Haiti, Venezuela, and Nicaragua back to Mexico, while allowing 30,000 from those countries to apply to live and work in the U.S. for two years. Approved asylum claims are currently the only exception to Title 42.
Under the parole program, migrants must have a legal sponsor within the U.S. and undergo a vigorous "background check." It also requires migrants to schedule a time to enter the U.S. via a legal port of entry through the CBP One app. A tidal wave of applicants has kept the website connected to the app almost perpetually crashed.
Sponsors can be those with Temporary Protected Status (TPS), parole, deferred action, asylum or refugee status, permanent residency, or U.S. Citizenship, and they can be any relative, friend, pastor, or group of people, like several relatives or friends or colleagues, or a business or a religious or other organization which can prove that they can financially support the beneficiaries during the two-year parole period. People who have been granted asylum can be sponsors, but people who are asylum seekers with pending cases cannot. People cannot be sponsors if they have not yet been granted initial TPS.
The new policy is an ingenious creation of the "laboratory," as President Jean-Bertrand Aristide used to call Washington's neocolony-management machinery.
The CHNV Parole Program is directed against the Latin American nations posing the greatest frontline threats to the U.S. empire: Cuba, Venezuela, Nicaragua… and Haiti.
For the former three, headed by anti-imperialist governments, it is a way to sap their revolutions by siphoning off their brightest minds and greatest talents.
In the case of Haiti, peopled by anti-imperialist masses who carry Russian and Chinese flags in their demonstrations to show their scorn for Washington, it is a way to bleed off revolutionary leaders (much as the Washington-funded Integrated Program for the Reinforcement of Democracy – PIRED – did during the 1991-1994 coup d'état), provide an excuse for the brutal and illegal interception of "boat-people" on the high seas (like the 83 captured off Florida's coast this week), continue the daily airlift of undocumented Haitians already in the U.S. back to Haiti, and undermine the arguments of lawyers and advocates calling for a humane immigration policy.
It is truly a double-edged sword, serving as 1) an offense against three vanguard socialist governments and 2) a defense against the human tidal wave created by U.S. neo-liberal policies and political engineering in Haiti.
The carrot Washington has dangled for Haitians is very puny. Questions abound. Are the parolees sent back to Haiti after two years? Are they eligible for Temporary Protected Status (TPS)? For residency? For political asylum? How long must one wait for an answer after applying? How long before traveling to the U.S.? Can one apply more than once with different sponsors? What are the parameters and depth of the background checks on applicants and sponsors? Does it involve political review? What obligations do the sponsors of parolees have during and especially after two years?
The fiery Father Réginald Jean-Mary of Notre Dame d'Haïti Catholic Church in Miami summed it up in a stirring Jan. 8 sermon:
"Today they are insulting us. They are offering a visa which is making all Haitians, all families, go crazy. It's a ploy. Tell the President (Biden) I said 'This is wrong. This is not right. That's not the way you treat a nation.' We need security in our country. We need peace. We don't need that visa. We don't even know how many people will receive that visa. All friends and families are becoming divided. If you don't apply for a friend, they will hate you. How many calls have you received at home? How many friends have called you saying 'Apply for me please.' Everybody in Haiti has it in their heads that they are now coming to the U.S.. And we know, this is a lie. Today, everyone is going crazy. A bunch of charlatans on FaceBook say 'come to me, come to me, I will apply for you.' You will pay $500. If he gets 1,000 people at $500, he makes half a million dollars off of poor people like himself. All our children are sucking us dry. That's not what we need from the United States. Just so they can prevent us from sailing to Key West, they try to calm us, saying they will give us a visa. All Haitians are running after Santa Claus, running after visas… How many people will get that visa? Stop being a fool in this world."
Haiti, indeed, has dramatic problems but has overcome them before. The "CHNV Parole Program" is an attempt to lure Haitians away from revolutionary ideas and efforts with false promises. Many will resist Washington's siren song, but many will also succumb and take the bait. As the great 20th century socialist author H.G. Wells wrote: "Hunger makes a fool of a man."