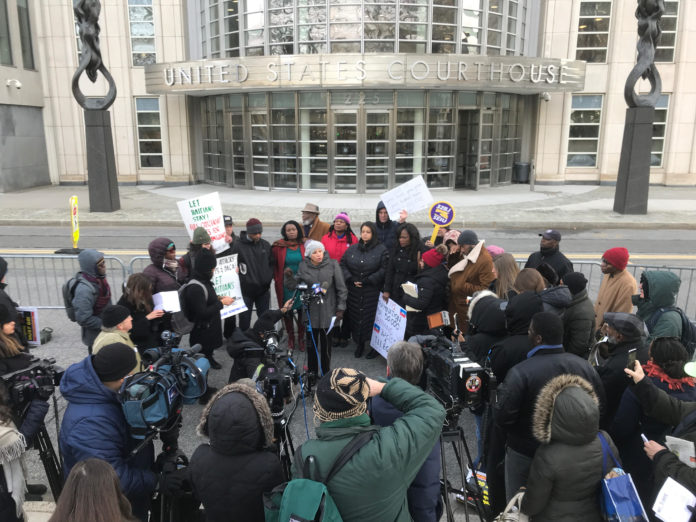 On Mon., Jan. 7, 2019, Haitian immigrants affected by the Trump administration's termination of Temporary Protected Status (TPS), along with Haitian community members, elected officials, faith and labor leaders, and immigration advocates held a press conference just before the start of a critical lawsuit seeking to roll-back the Trump administration's move.
The lawsuit, Saget et al v. Trump, has been brought on behalf of nine individuals, a community group, and a Haitian newspaper that will be negatively impacted by the termination of Haitians' TPS. The suit argues that the cut-off was unlawful, unconstitutional, and motivated by President Trump's public racial animus towards Haitians and other immigrants of color. If upheld, the TPS termination will put more than 50,000 Haitian immigrants at great risk.
"Having TPS has made it possible for me to make a life here in New York, and to help support my son in Haiti," said Gerald Michaud, one of the plaintiffs in the suit, who works as a wheelchair attendant at LaGuardia airport and has been a TPS holder since 2010. "I don't know what I will do if I am forced to return to Haiti, and I know that many others are in the same position as me."
"The Trump administration's November 2017 decision to terminate Haiti's TPS was immoral, racist, and unconstitutional," said Marleine Bastien, Executive Director of the Family Action Network Movement (FANM). "It has thrown the lives of thousands TPS recipients and their U.S. born children in turmoil. I hope that the judge will do the right thing to right this wrong, and protect these hard working, deserving individuals who contribute so much to our economy and communities across the U.S.."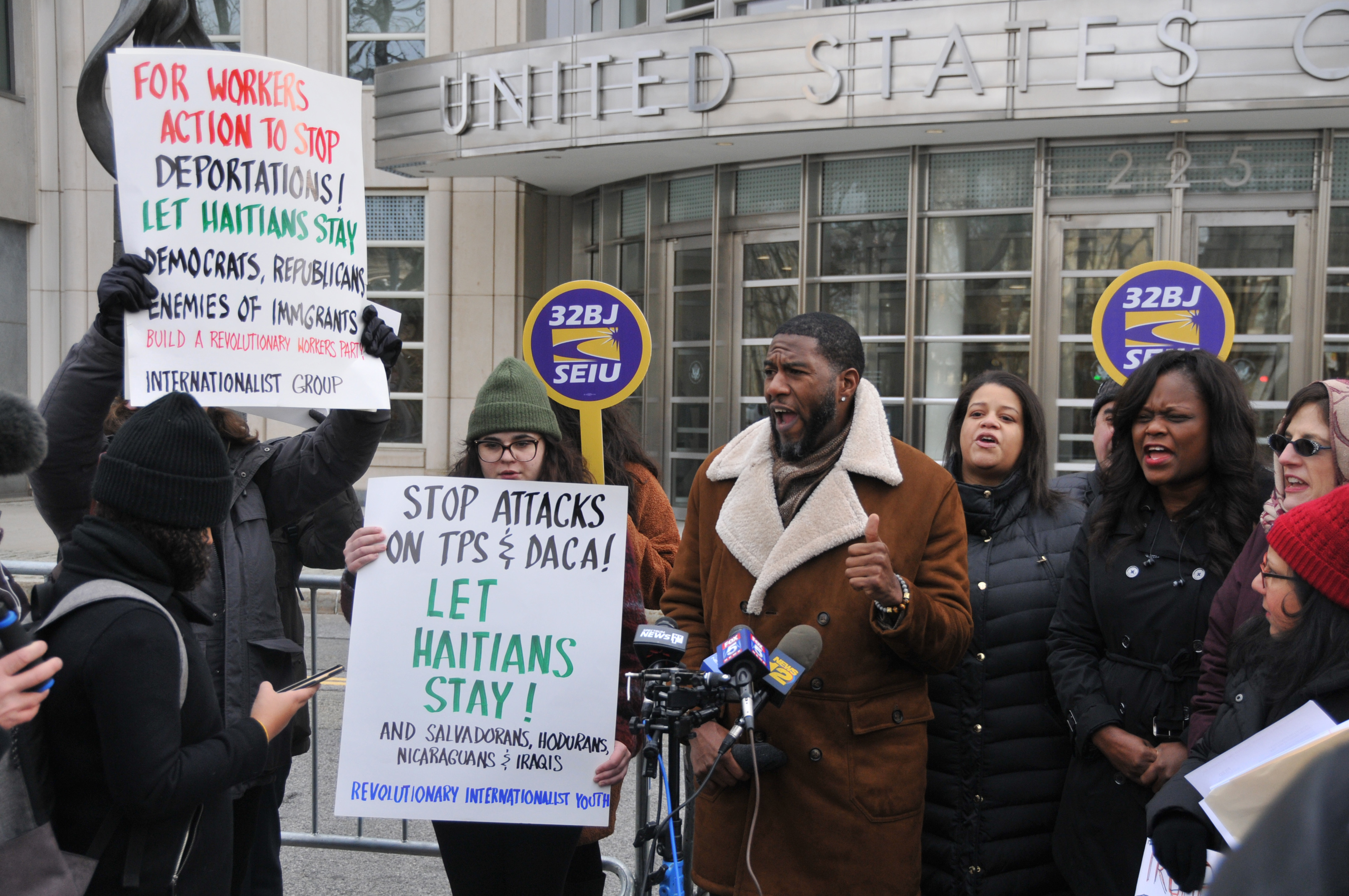 The lawsuit alleges that the government violated the law in the way it ended TPS and that the move was premeditated, and motivated by racial animus. While there is a long history of discrimination against Haitians in the U.S., things have hit a new low. President Trump has been heard stating that Haitians "all have AIDS" and describing Haiti as a "shithole countr[y]" in a meeting with Congressional leaders about TPS. The White House also exerted tremendous pressure on Department of Homeland Security (DHS) officials charged with making TPS decisions.
"As a result of the Trump Administration's unconstitutional and lawless decision to terminate their Temporary Protected Status, thousands of Haitian families are facing separation," said Sejal Zota, Legal Director at the National Immigration Project of the National Lawyers Guild (NIPNLG). "We cannot allow this administration to repeatedly ignore our laws and allow racial animus to drive immigration policy."
This will be the first trial challenging the U.S. government's unlawful termination of Haitians' TPS specifically. Michael Posner, a U.S. Assistant Secretary of State from 2009 to 2013, and Leon Rodriguez, the director of DHS's Citizenship and Immigration Services (USCIS) from 2014 to 2017, testified on Jan. 7 and Jan. 8 respectively, along with other expert witnesses, that the Haitian TPS termination was unlawful.
"Haiti is a textbook case for why TPS is needed, due to three recent extraordinary catastrophes: the world's deadliest cholera epidemic, 2016's Hurricane Matthew, and the devastating 2010 earthquake," said Steven Forester, Immigration Policy Coordinator at Institute for Justice & Democracy in Haiti (IJDH). "Only Trump's racism against Haitians can explain the decision to end TPS for Haiti."
"Haiti cannot safely assimilate 50,000 people," said Alison Hirsh, Vice President, SEIU 32BJ. "This would destabilize the country and would also have vast negative consequences on the economies of communities in Miami, New York, and Boston. The decision to terminate TPS must be reversed, and the new Congress must approve a legislative long-term solution for Haitians and hundreds of thousands of TPS holders."
"Many of us in Congress have been actively fighting against Trump's cruel policies against TPS holders, Dreamers, and all immigrants," said Rep. Nydia M. Velázquez (D-NY) in front of the Courthouse. "I have authored legislation to offer TPS holders relief from deportation so they can continue to raise their families, run their businesses, and use their skills to make their communities better. We must stand up to the Trump Administration's anti-immigrant policies in every available venue – from Congress to the Courts."
"The destructive premeditated termination of TPS is unconstitutional and otherwise illegal," said Ira Kurzban, a veteran litigator at Kurzban Kurzban Tetzeli & Pratt, one of the lead lawyers in the case. "We look forward to the trial where it hopefully will be reversed."
Here is the statement of Haïti Liberté, one of the lawsuit's plaintiffs, as read by Jocelyn Gay in front of the courthouse before the start of the trial.
---
Since U.S. Marines first invaded Haiti a century ago, the U.S. has plundered and strong-armed our nation, leaving it impoverished and politically unstable. The U.S. has re-enslaved our people, first in the Marines' corvées, today in cheap labor sweatshops. Through coups d'état or electoral shenanigans, Washington has imposed and supported dictators, like Papa and Baby Doc Duvalier, or neo-Duvalierist charlatans, like Michel Martelly and Jovenel Moïse, all of whom have plundered state coffers, or, more recently, the Venezuelan-provided PetroCaribe solidarity fund.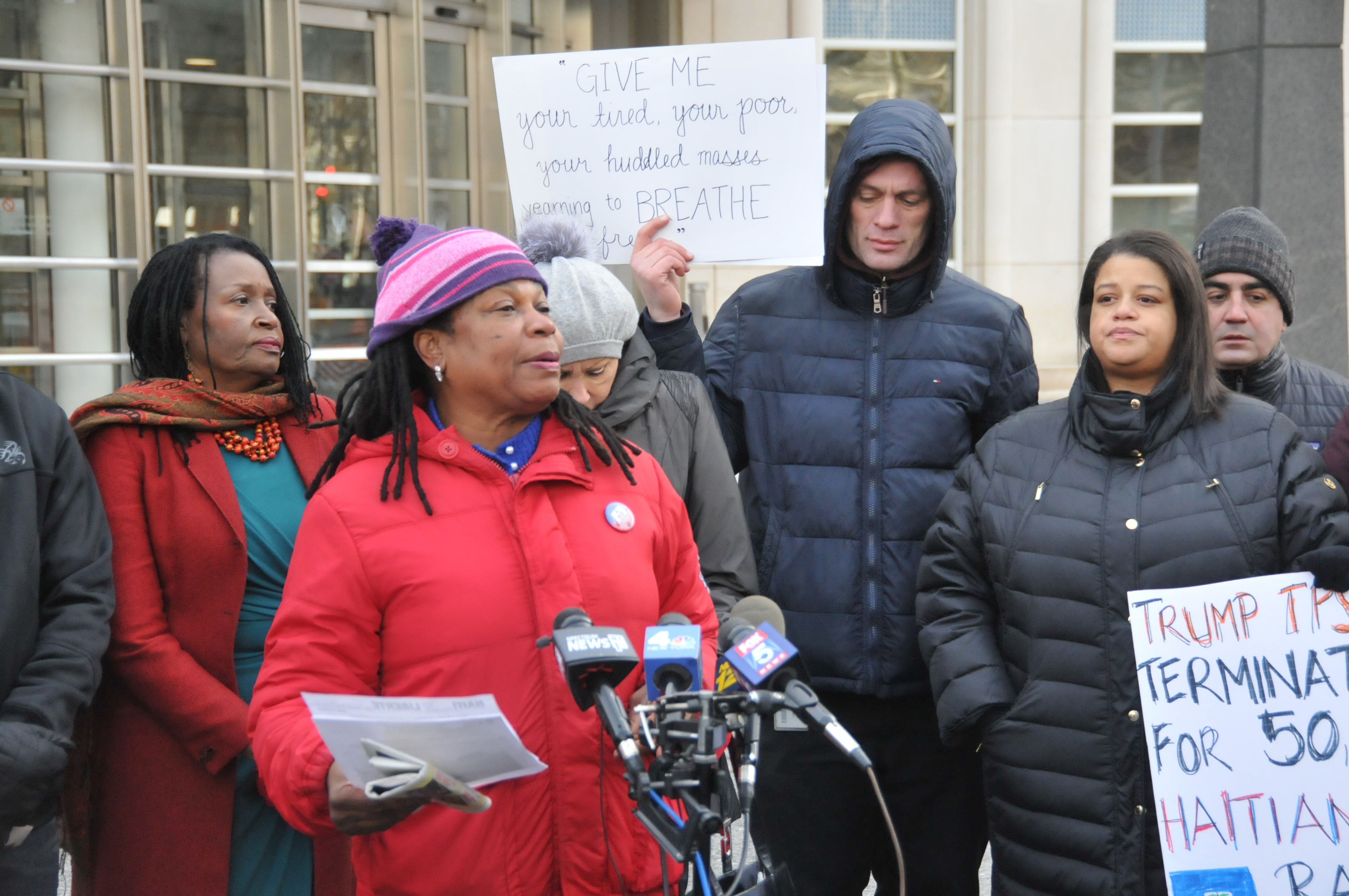 When the Haitian people twice defied U.S. wishes by electing Jean-Bertrand Aristide president in 1990 and 2000, Washington twice allied with the Haitian elite to violently overthrow him in 1991 and 2004, and then impose foreign military occupations, first with U.S. troops, followed by UN forces. Today, Haiti is still militarily occupied by a UN police force, MINUJUSTH.
In recent decades, as Haitians have fled their economic and political suffocation, the U.S. Coast Guard intercepted their boats on the high seas and imprisoned them in concentration camps at the U.S. Naval Base in Guantanamo Bay, Cuba or, more recently, summarily returned them to Haiti.
However, the death and destruction caused by the Jan. 12, 2010 earthquake in Haiti shocked the world's conscience and offered an opportunity for Haitian relief. The Obama administration was compelled to grant some 50,000 Haitians Temporary Protected Status (TPS) to live and work in the U.S.. Nine years later, Haiti has still not recovered from the earthquake, has been rocked by a cholera epidemic imported by the UN, and is still reeling in the aftermath of Hurricane Matthew in 2016 and Hurricane Irma in 2017.
To add insult to injury, one year ago, President Donald Trump called Haiti a "shithole." We voiced our outrage in the streets, but this lawsuit is our legal response. His racism towards Haitians and other Latin Americans cannot go unanswered.
Trump's cut-off of Haitians' TPS to will mean deportation and disaster for not just 50,000 human beings holding that status. Their American-born children will have to choose whether to stay in school here or return to Haiti with their parents. Businesses where they are employees or employers will close or be disrupted. Churches will be diminished. The remittances on which thousands in Haiti depend will be choked off. Haitian communities everywhere in the U.S. will be weakened and traumatized by this mass exodus.
Clearly, Trump's decision to yank Haitians' TPS is based on racism, demagoguery, and political pandering to xenophobes. It is illegal, arbitrary, and flies in the face of his own officials' advice.
We call on the U.S. courts, and Judge William Kuntz in particular, to stop the travesty of sending 50,000 people back into a nation which has been hit hard, not just by Mother Nature, but by the policies of Washington itself.