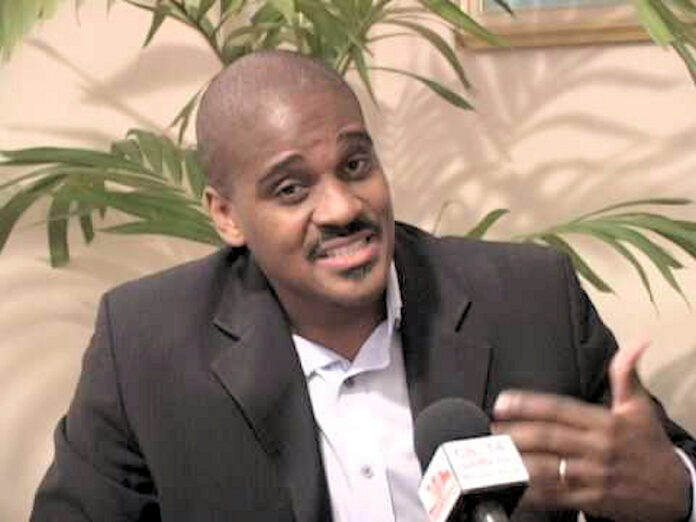 What was lawyer Newton St. Juste thinking when he went on Haiti's radios to denounce a case which may or may not indict former President Jean-Bertrand Aristide and eight others on a collection of charges ranging from embezzlement to drug trafficking? Why would a lawyer start defending his client before prosecutors have gone public with an indictment?
The first thing to understand is that these charges are old, old news. They were concocted back in 2004 by the Central Unit for Financial Inquiry and Research (UCREF), an agency created under the post-coup de facto regime of U.S.-installed Prime Minister Gérard Latortue. The charges, which were so far-fetched that even the de factos' kangaroo courts eschewed them, had long lain dormant in a drawer… until someone, somehow "reactivated" the case by giving it to the offices of investigating Judge Mimose Janvier on Feb. 24.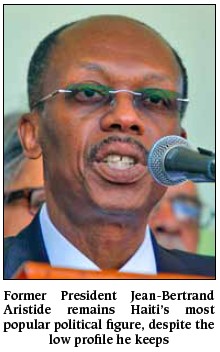 Rumors of the resurrected dossier began to circulate over the weekend but exploded into a brief but major scandal when St. Juste confirmed the story on Feb. 27. "The judicial proceeding would be remote-controlled directly by the National Palace," St. Juste told Radio Kiskeya during its 4 p.m. broadcast that day. "Regarding the handling of the… suspicions of corruption, [St. Juste] stressed that the High Court of Audit has never issued a decision rendered, the only element that, in administrative law, might justify legal action." The report suggested that two warrants for Aristide's arrest had been issued.
"It is a political maneuver," St. Juste told Haïti Liberté. "It is manipulation, wheeling-dealing, and public persecution" by President Michel Martelly's government of Aristide, who, despite his studiously-kept low profile since returning to Haiti from seven years of exile on Mar. 18, 2011, remains Haiti's most revered political symbol.
Almost immediately outrage erupted around Haiti and throughout its diaspora. Street corners, telephone lines, and radio call-in shows from Montreal and Boston to Miami and Port-au-Prince were filled with indignation against the news. "Is Martelly suicidal?" asked one representative call-in listener on Brooklyn's Radio Pa Nou. "He will light the fuse of an nationwide uprising against his corrupt regime if he touches a hair on Aristide's head!"
On the night of Feb. 27, hundreds of people began to mobilize in Cité Soleil, planning a major demonstration the next day. But at the same moment, the government put out a note to diffuse the brewing uprising: "The Ministry of Justice and Public Safety would like to make a formal denial of the rumors that two warrants were issued against former President Jean-Bertrand Aristide. While affirming its respect for the independence of the judiciary and equality before the law, the Justice Ministry is inviting the general public and the press in particular to not rely on fanciful rumors, which could adversely affect the process of establishing the rule of law and the policy of national reconciliation advocated by the President of the Republic, His Excellency Joseph Michel Martelly."
The way the dossier was presented on Radio Kiskeya was erroneous. There was no indictment, no arrest warrant. As St. Juste told Haïti Liberté, "the judge has three months to decide what to do with the dossier." In other words, Judge Janvier might act on the dossier and issue an indictment, or throw it in the garbage.
Unfortunately, it seems that Newton St. Juste had never discussed the matter of speaking out about the "reactivated dossier" with Aristide or any of Aristide's other lawyer like Camille Leblanc or Mario Joseph of the Office of International Lawyers (BAI).
"Neither President Aristide nor anyone else in Fanmi Lavalas ever authorized Newton St. Juste to say what he said,"  Fanmi Lavalas spokeswoman Maryse Narcisse told Haïti Liberté. "We learned about it on the radio like everyone else. A defense lawyer isn't supposed to act like that and say those kinds of things."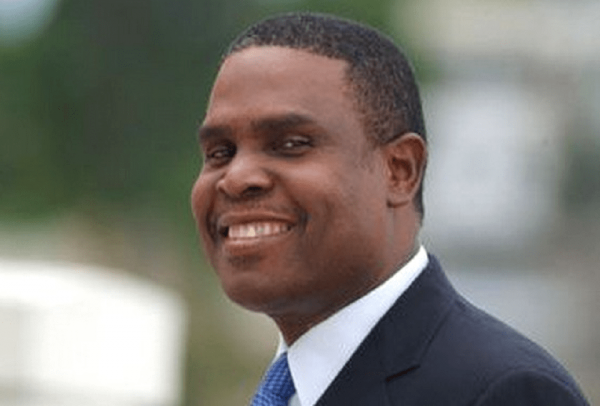 So who told lawyer Newton St. Juste to start denouncing a dossier that might go nowhere and would bring publicity to a de facto stew of foolish fabrications? The answer: Jean-Henry Céant, former Presidential candidate, formerly Aristide's notary, and now, by looking at FaceBook pictures of him at a post-inaugural party, a good friend of President Michel Martelly.
It was Céant, not Aristide, who gave Newton St. Juste the green light to denounce the resurrected dossier, St. Juste told another lawyer.
What is stranger still is that the original UCREF complaint included the name of Ginette Céant, Henri Céant's sister in law. The new dossier does not include Ginette Céant's name.
Henri Céant could not be reached for his side of the story before going to press.
Could Henri Céant have pushed Newton St. Juste to talk about the dossier as part of a scheme hatched with President Martelly? Was it an honest faux pas by Céant and St. Juste, seeking to defend Aristide against an unwarranted prosecution? These are the questions that hopefully will be clarified in the days ahead.