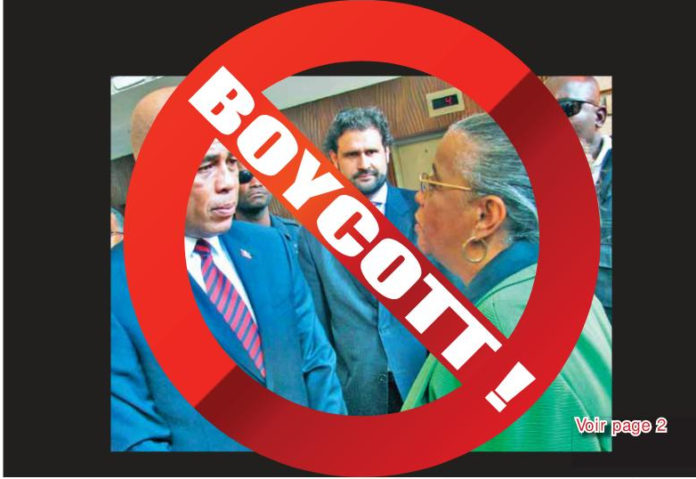 This year's Carnaval "is not really taking," explains Yves Pierre-Louis, an organizer with the Heads Together of Popular Organizations (Tèt Kole Oganizasyon Popilè), a broad front of Haitian grassroots groups.
Crowds have been thin and enthusiasm weak during the current Mardi Gras celebration (which culminates Mar. 8) due to a lack of government funding and a malaise which hangs over the country where more than one million earthquake victims remain homeless in growingly tattered IDP camps and where "a mockery of an election, which will result in the 'selection' of one of two arch-reactionaries to be President, is being shoved down our throat by the so-called international community," he said.
the election is illegal under Haiti's Constitution and Electoral Law.
The run-off, between former First Lady Mirlande Manigat and former konpa singer Michel "Sweet Micky" Martelly is scheduled to take place on Mar. 20, and the two candidates are crisscrossing Haiti with campaign rallies in towns, large and small.
There is only one small problem: the election is illegal under Haiti's Constitution and Electoral Law. Only four of the eight-member Provisional Electoral Council (CEP) have voted to proceed with the second round, one short of the five necessary. Furthermore, the first round results have not been published in the journal of record, Le Moniteur, and President René Préval has not officially convoked Haitians to vote, both constitutional requirements.
"In this election, it is the United Nations [UN] and Organization of American States [OAS], both acting on Washington's behalf, who are convoking the people to vote for the candidates whom they have designated," Pierre-Louis said. (Last month, the OAS forced the CEP – legally, the "final arbiter" of Haitian elections – to replace Jude Célestin, the candidate of Préval's party, with Martelly in the run-off.)
In response, Tèt Kole and a number of other organizations and parties are organizing a demonstration in the capital on Mar. 15 to call for a boycott of the elections and exiled former President Jean-Bertrand Aristide's return.
Meanwhile, four other presidential candidates – Jean Henri Céant, Yves Cristallin, Jacques Edouard Alexis, and Charles Henri Baker – have called for annulment of the elections, whose first round was severely marred by massive and widespread voter fraud, violence and disenfranchisement. "We want the annulment, pure and simple, of the shameful Nov. 28 election," Cristallin said.
Last week, The Guardian (UK) published an open letter signed by prominent figures like author and linguist Noam Chomsky, Slovenian philosopher Slavoj Žižek, actor Danny Glover, British Pakistani intellectual Tariq Ali, and former U.S. Attorney General Ramsey Clark, among others. The letter, which calls for new elections and Aristide's return, was published simultaneously in French in last week's Haïti Liberté. Since that time, a number of other well-known and well-respected figures have signed on to the letter, including Haitian-American novelist Edwidge Danticat, Uruguayan author and historian Eduardo Galeano, British parliamentarian John McDonnell, and philosopher Cornel West.
Below we reproduce the complete letter in English along with the updated list of signers.
Over the next few years, much of Haiti will be rebuilt and much of its economy restructured. In response to last year's earthquake an unprecedented amount of money has been promised for reconstruction. It's more important than ever before that Haiti be governed by an administration that reflects the true will and interests of its people, rather than the concerns of foreign governments and corporations.
In 2004, the U.S., France and Canada, in alliance with members of Haiti's business community and demobilized soldiers of the Haitian army, overthrew the last Haitian government to enjoy genuine popular support; the party that led this government, Fanmi Lavalas, was elected with around 75% of the vote. This past November, these same powers imposed and funded an illegitimate electoral process in Haiti, one that blocked the participation of Fanmi Lavalas. Only 23% of Haitian voters participated, scarcely a third of the proportion who voted in the last presidential election.
In recent weeks, the U.S. and its proxies have brazenly interfered in the interpretation of this election's first round of results. The flawed November vote was not only inconclusive and unrepresentative, its outcome was also unlawful. If the second round of these elections goes ahead as planned on 20 March, it is now sure to result in the unconstitutional selection of a president with closer ties to the powers that sponsored and manipulated them than to the people meant to participate in them.
At the same time, the powers that dominate Haiti have facilitated the return of former dictator Jean-Claude Duvalier while discouraging the return of twice-elected president (and Fanmi Lavalas leader) Jean-Bertrand Aristide. These powers, with their allies in the Haitian business community, have made it clear that they seek to delay Aristide's return until after 20 March. They will only allow Aristide to return after a suitably pliant new government has been installed, to preside over the imminent reconstruction process.
We the undersigned call on the Haitian government to make the security arrangements that will enable Aristide's immediate return, and we call on the international community to support rather than undermine these efforts. We call on the Haitian government to cancel the second round vote scheduled for 20 March and to organise a new round of elections, without exclusions or interference, to take place as soon as possible.
Signed:
Marie Célie Agnant, writer
Tariq Ali, writer
Andaiye, Red Thread, Guyana
Roger Annis, Canada Haiti Action Network
Reginald Antoine, PEVEP
Molefi Kete Asante, President, Molefi Kete Asante Institute for Afrocentric Studies
Alain Badiou, Ecole Normale Supérieure (Paris)
Brian Becker, National Coordination, ANSWER Coalition
Emile Wilnes Brumer, Mas Popilè Site Solèy
Sara Callaway, Women of Colour/Global Women's Strike, UK
Yves Camille, Haiti Liberté
Jean-Claude Cajou, community activist
Noam Chomsky, MIT
Ramsey Clark, former U.S. Attorney General
Brian Concannon, Institute for Justice and Democracy in Haiti
Dan Coughlin, Executive Director, Manhattan Neighborhood Network
Edwidge Danticat, author
Ezili Dantò, Haitian Lawyers Leadership Network
Mike Davis, UC Riverside
Castro Desroches, SUNY
Rea Dol, SODUPEP
Berthony Dupont, Haiti Liberté
Ben Dupuy, Haiti Progrès & Parti Populaire National
Darren Ell, Montreal-Haiti Solidarity Committee
Joe Emersberger, writer
Yves Engler, writer
Anthony Fenton, journalist
Weiner Kerns Fleurimond, Haiti Liberté
Pierre L. Florestal, Fanmi Lavalas – NY
Daniel Florival, Tèt Kole Oganizasyon Popilè yo
Sara Flounders, International Action Center
Laura Flynn, Aristide Foundation for Democracy board
Eduardo Galeano, historian and journalist, Uruguay
Danny Glover, actor & activist, Board Chair, TransAfrica Forum
Leah Gordon, photographer & curator
Manu Goswami, NYU
Greg Grandin, NYU
Thomas Griffin, lawyer
Prince Guetjens, writer
Bishop Thomas Gumbleton
Peter Hallward, Kingston University London
Georges Honorat, Haiti Progrès
Kim Ives, Haiti Liberté
Selma James, Global Women's Strike, UK
Dr. G. Carlo Jean, educator
Marlène Jean-Noel, Fanmi Lavalas Baz NY
Tony Jean-Thénor, Veye Yo
Frantz Jerome, Coalition Against Occupation and Sham Elections
Evelt Jeudi, Fanmi Lavalas Miami
Jude Geffrard Joseph, Radio Pa Nou, Brooklyn
Mario Joseph, Office of International Lawyers (BAI)
Farah Juste, representative of Fanmi Lavalas for Florida & the Bahamas
Michelle Karshan, Aristide Foundation for Democracy
Katharine Kean, film-maker
Ira Kurzban, Counsel for the Republic of Haiti from 1991-2004
Pierre Labossière, Haiti Action Committee
Ray Laforest, International Support Haiti Network
Frantz Latour, Haiti Liberté
Andrew Leak, University College London
Didier Leblanc, Haiti Liberté
Jacques Elie Leblanc, Haiti Liberté
Maude Leblanc, Haiti Progrès
Richard Ledes, film director
Nicole Lee, President, TransAfrica Forum
Jack Lieberman, Haiti Solidarity Committee, Miami
Nina López, Legal Action for Women, UK
Gardy Lumas, PEVEP
Isabel Macdonald, journalist
Albert Maysles, film-maker
John McDonnell, Member of Parliament, UK
Yves Mésidor, Mas Popilè Site Solèy
Johnny Michel, Mas Popilè Site Solèy  
Melinda Miles, Let Haiti Live
Georges Mompremier, Fanmi Lavalas Baz NY
Fednel Monchery, Jeunesse pour la République (JPR)
Joia S. Mukherjee, Chief Medical Officer, Partners In Health
Nick Nesbitt, Princeton University
Harry Numa, community activist
Vanel Louis Paul, Mas Popilè Site Solèy
Gladys Timmer Phillpotts, Fanmi Lavalas Baz St. Francis
Fritzner Pierre, radio host of Dyalog Popilè
Wadner Pierre, Haitianalysis.com
Yves Pierre-Louis, Tèt Kole Oganizasyon Popilè yo
Kevin Pina, Haiti Information Project
Margaret Prescod, Women of Colour/Global Women's Strike, USA
Jackson Rateau, Haiti Liberté
Jane Regan, journalist
Roosevelt René, engineer
Corey Robin, Brooklyn College & CUNY
William Robinson, UCSB
Nicolas Rossier, film-maker
Robert Roth, Haiti Action Committee
Jean Saint-Vil, writer
Alina Sixto, Radio Fanmi Lavalas New York
Ashley Smith, International Socialist Review
Mark Snyder, International Action Ties
Jeb Sprague, UCSB
Irwin Stotzky, University of Miami Law School
Lucie Tondreau, community activist
Eddy Toussaint "Tontongi", Revi Tanbou
Harold Valentin, Oganizasyon Jen Salomon (OJESA)
Dave Welsh, San Francisco Labor Council
Cornel West, Princeton University
Burt Wides, former counsel to Haiti's constitutional government; Special Counsel to President Carter for oversight of all U.S. Intelligence Agencies
Cécile Winter, Collectif politique sida en Afrique
Slavoj Žižek, University of Ljubljana