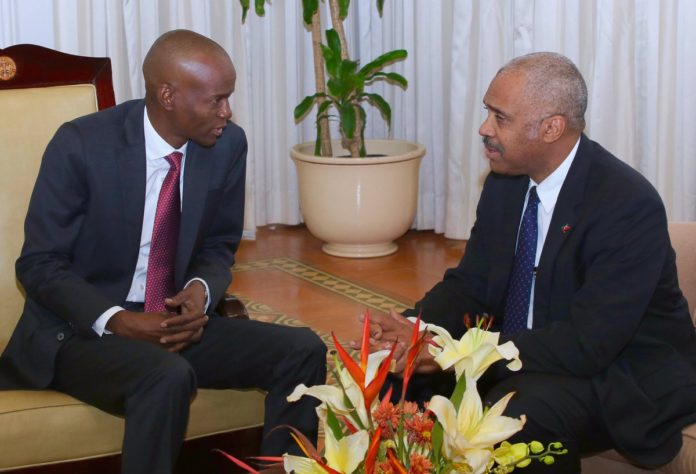 Borrowing a practice used by the new U.S. President Donald Trump, Haiti's new president Jovenel Moïse announced his choice for prime minister via Twitter on the evening of Feb. 22, 2017.
"After a second series of consultations with the presidents of the two chambers, I've made a choice of Dr. Jack Guy Lafontant as Prime Minister," he tweeted in French.
Jovenel Moïse was exasperated after days of wrangling with his putative allies in Parliament, who were jostling and lobbying for various rival candidates, in particular House of Deputies president Cholzer Chancy. The in-fighting was intense. The president ultimately decided to choose his own doctor (and that of his wife and father), whom he had been considering for the post of Health Minister.
"Jovenel finally got fed up and decided to choose his own man," said Dr. Michel José Charles, a New York-based Haitian gastroenterologist who has known the prime minister pick for decades.
Dr. Lafontant was a supporter of Jovenel Moïse since he launched his presidential campaign under the banner of the Haitian Bald Headed Party (PHTK) in 2015.
Described by several who know him as soft-spoken, serious, and honest, Dr. Lafontant, 55, is a gastroenterologist who trained in Haiti and Martinique but, as a matter of principle, has always worked in Haiti. In addition to being a well-respected doctor in Port-au-Prince, he is also a medical school professor and hospital administrator. He was the general director of the St. Croix Hospital in Léogâne (as well as the founder of its radio station) and member of the American College of Gastroenterology and the Haitian Medical Association, of which he was once treasurer.
Politically, Dr. Lafontant is the leader of the Democratic Movement for the Liberation of Haiti – Party of Democratic Assembly of Haiti (MODELH-PRDH), founded by social-democratic politician Louis Eugène Athis, who in 1987 in Haiti's southwest was hacked to death by a mob shouting "Kill the communists!"
The party's platform calls for "a new, more pragmatic society in terms of investment, wealth creation, and national heritage protection, with a more entrepreneurial, progressive private business sector engaged in a dynamic partnership with the public sector to fight corruption, promote economic growth and regionalization, social justice, and the fight against poverty, a society imbued with feelings of equity, solidarity and ownership-belonging to the country."
This political vision is one which the U.S. Embassy would likely approve of and corresponds well to the "civic internationalism" of the Rotary Club, whose Haiti chapter Dr. Lafontant presides over. In fact, Dr. Lafontant's Rotary Club leadership surely puts him in good standing with Washington – whether there were discussions between Jovenel Moïse and the U.S. Embassy or not – and it is useful to understand the Rotary International's role as an accessory to U.S. power worldwide.
The Rotary Club, founded in Chicago in 1905 during the era of U.S. global ascendence, has a "vision of international cooperation among businessmen in the name of community service, … a businessman's version of a civilizing mission to the world," writes Brendan Goff in his excellent 2008 dissertation entitled "The Heartland Abroad: The Rotary Club's Mission of Civic Internationalism." After spreading worldwide over the past century, Rotary Clubs' "civic internationalism contributed to U.S. economic and cultural imperialism thanks to its non-state, non-profit status," Goff argues. The Rotary International's "success both inside and outside the U.S. helped pave the way for a much more active role for the United States as a nation in the world after World War II."
In the past, Washington has tried to impose other prime ministers on Haitian presidents. For example, the U.S. forced prime ministers Robert Malval in 1993 and then Smarck Michel in 1994 on then President Jean-Bertrand Aristide. In 2011, Dr. Garry Conille, an aide to Bill Clinton, was made President Michel Martelly's head of government for about four months until he resigned when blocked from investigating corruption.
Whether or not there is any basis to unverified rumors that the U.S. Embassy encouraged Jovenel Moïse to select him, Dr. Lafontant objectively fits the profile of the kind of leader the U.S. would like to see in Haiti's most powerful executive post: an urbane, personable, English-speaking, pragmatic technocrat who is ready to root out neo-Duvalierist corruption while encouraging private enterprise "in a dynamic partnership with the public sector."
Dr. Lafontant, the son of an Episcopal minister, has gastroenterologist wife, Dr. Marie-Nirva Blaise, who works in the Bronx and lives in Valley Stream, NY with their teenage daughter. By another marriage, he also has a son in medical school in Port-au-Prince and a daughter who is a dentist there.
"I felt very hopeful when I heard he was nominated because I thought here's a guy who could probably do some good things," said Dr. Dr. Ramona Rajapakse, a gastroenterologist from Stony Brook, NY whom Dr. Lafontant hosted when she was visiting Haiti with her husband for the first time in February. "On a superficial level, he was very soft spoken, understated, and easy to talk to. On a deeper level, when we were talking about affairs in Haiti, he just seemed to have a good heart."
"But I really don't know," Dr. Rajapakse added.
Others were not so sanguine about his new prospects. "I told him not to take the job," said Dr. Charles, who calls Dr. Lafontant "a very nice, strict guy."
"I told him it's not a good idea to take a job in that government when everyone knows you as an honest guy," Dr. Charles continued. "Whatever happens, you won't come out with a good name."
When asked why he thought the president eschewed the other PM candidates proposed by right-wing Parliamentary allies and chose Dr. Lafontant, who is also the physician for the former president Michel "Sweet Micky" Martelly, Dr. Charles said: "Maybe Jovenel has something else in mind that we don't know."
Dr. Lafontant's now has to be ratified by the Parliament, but the procedure is different now under Constitutional amendments which have taken effect with the newly seated 50th Legislature. Previously, the Parliament had to just approve the nominee's bureaucratic requirements like residency, citizenship, and birth certificate, and then, in a second vote, the candidate's government plan of action. However, the first two or three PM candidates were almost always rejected as a part of the Haitian power tango between the legislature and executive.
Now, however, under the new amendments, the nominee selects his entire cabinet and presents his government's plan of action for approval. This allows the president and his nominee to horse-trade government posts with disgruntled, recalcitrant parliamentarians who might have voted against a nomination. Dr. Lafontant will be the first test of whether the new system makes PM ratifications any less tortured.