Ce samedi 2 Décemdre 2017, dans le cadre de l'Auditorium de Lady of Miracles situé au 741 East 86 à Brooklyn, la communauté haïtienne aura l'opportunité d'offrir un hommage mérité à la diva nationale Yole Dérose dans un événement qui mettra sur scène des stars et ténors de la scène musicale actuelle, tels Emelyne Michel, Mélanie Charles, Riva Précil, Jocelyne Dorismé, Monvelyno Alexis et bien d'autres.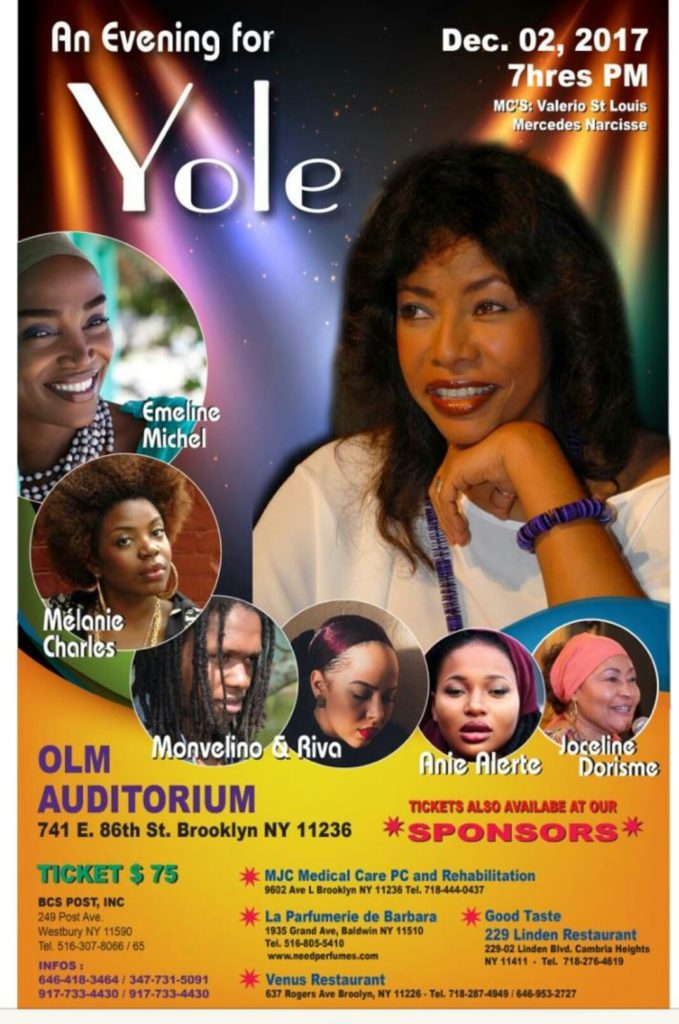 Ce geste justifie la reconnaissance due à l'artiste pour avoir, durant des décades, tenu bien haut le flambeau de la culture du terroir. Aujourd'hui, affaiblie par la maladie, cette soirée tambola doit permettre de couvrir les frais médicaux nécessitant son traitement. C'est peu à donner que d'être lá en même temps pour célébrer l'ensemble de sa carrière. Spécialement les mordus de Brooklyn qu'elle a émerveillés au cours des lustres dans le cadre du Whalt Whiltman à Brooklyn College et au Brooklyn Academy of Music (BAM), sans oublier ses fresques au Canegie Hall de Manhattan pour dire que personne ne sera en reste. Et tout récemment dans des réalisations comme Au nom de l'Altantide, Haiti terre de feu, Haïti cœur de femmes, qui parlent autant de sa prépondérance dans l'horizon artistique natal.
L'admission est de $75 dollars par personne, incluant cocktail hours et valet parking. Le show commence à 7heures PM.