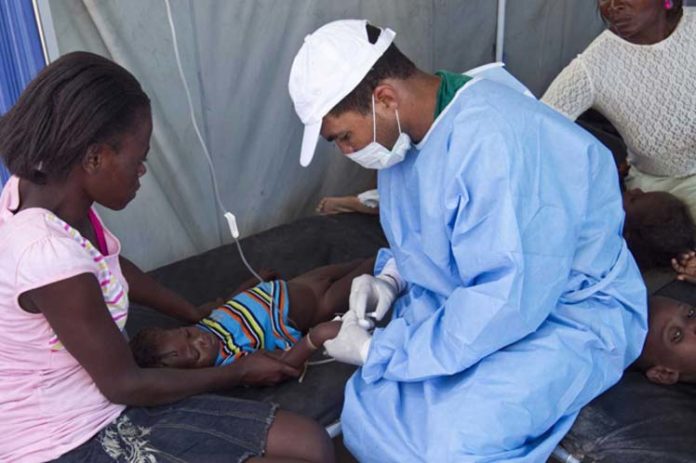 Haiti's Ministry of Public Health and Population (MPHP) recorded 38 deaths due to cholera in 2018, a significant reduction of deaths due to this disease. Since 2010 until today, cholera has claimed the lives of 9,786 people.
According to the government agency's most recent report, the figure is considerably lower than last year when about 159 people died from cholera.
Currently, no community is on alert, and health authorities indicated that in the first two weeks of October, there were about 31 suspected cases.
During that period, the most affected communes were Grand-Bois, Cornillom, and Cabaret, in the Western department, with about 18 cases under study.
So far this year, the incidence rate per thousand people is 0.26%, however, the MPHP has proposed reducing this figure to 0.1%.
in the first half of 2018, 2,688 cholera cases were reported, down from 7,604 cases in 2017.
According to a spokesperson for the Health ministry, the disease's low transmission is an opportunity to further improve the quality of the response, in order to put an early stop to each outbreak and prevent the epidemic from rebounding.
The MPHP spokesperson also points out that coordination, management, epidemiological surveillance, vaccination, and community response must continue with the same energy to achieve the objective of eliminating the disease in the medium term.
For its part, the United Nations Office for the Coordination of Humanitarian Affairs (OCHA) indicated that in the first half of 2018 2,688 cases were reported, a reduction of almost 35% with respect to 2017, when 7,604 cases were recorded.
To date, health authorities reported some 3,350 suspected cases, representing a 75% decrease from last year when the MPHP recorded 13,681 cases.