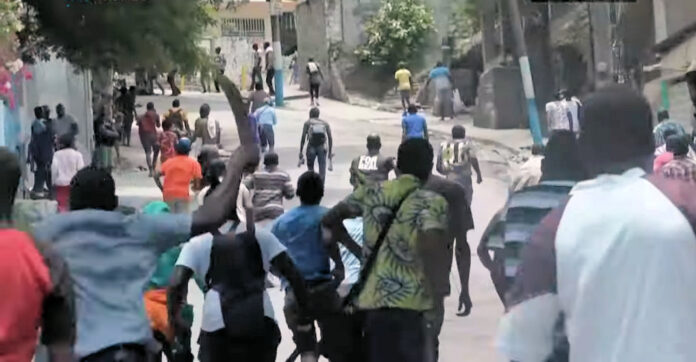 (Français)
On Apr. 23, 2023, after a night of heavy gunfire in the second district and surrounding neighborhoods of Port-au-Prince, Haitian National Police (PNH) received information that several gang members were traveling through the area. Early the following morning in the Canapé-Vert neighborhood, police stopped a public transportation minibus and found 14 men carrying heavy weapons, ammunition, cell phones and other illegal contraband.
As police arrested them and brought them into the station, a growing crowd of residents decided to take matters into their own hands. They stormed the building, dragged the suspected criminals out – sparing the bus driver and conductor – and proceeded to lynch them, then burn their bodies, leaving smoking, charred corpses. The spectacle was filmed on cell phone videos that immediately went viral on social media.
The incident marked the beginning of a spontaneous and leaderless national uprising called "Bwa Kale," literally meaning "peeled wood." It refers to the tool used in a severe form of corporal punishment in some Haitian homes and reflects not only the will of its participants to identify, catch, and kill the violent criminals who have long terrorized the country with kidnapping, extortion, and murder, but also to employ the criminal gang's same gruesome methods of violence against the population. Indeed, the spectacle is the point, seeking to strike terror into the hearts of their tormentors.
The Bwa Kale movement is steeped in iconography and zeal of the famed 1791-1804 Haitian Revolution, when the slaves of Saint Domingue overcame their colonial masters, defeated the French, British and Spanish empires, and founded the hemisphere's first free republic.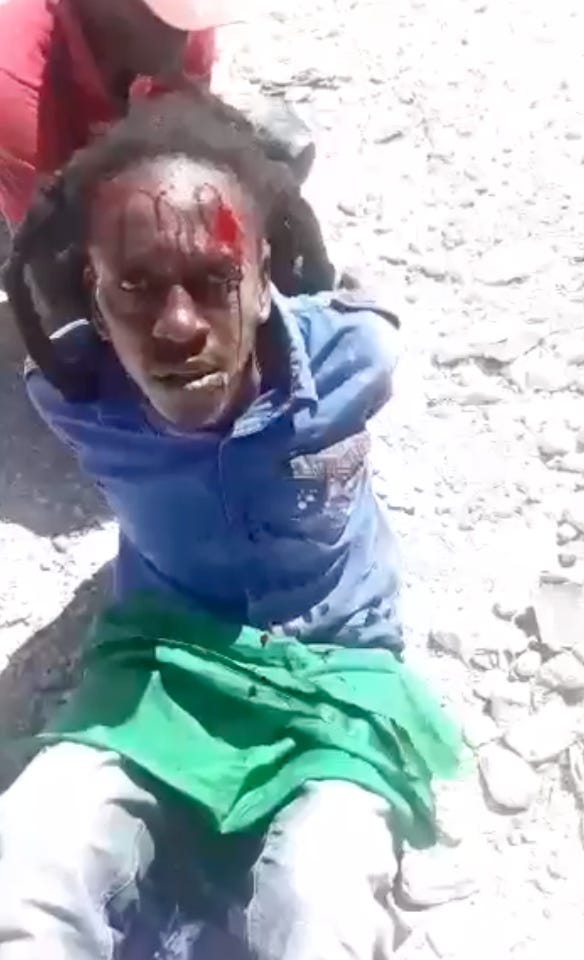 One viral video shows a man in front of a large crowd blowing a conch shell, which was used to summon the former slaves to battle.
A woman chanting while banging a spoon on a pot has become the icon of uprising.
Another shows Haitians sharpening blades on a wheel.
Bwa Kale also recalls the dechoukaj phenomenon (literally "uprooting"), the period following the fall of dictator Jean Claude Duvalier, when the Haitian population exacted revenge on the former regime's henchmen, known as the Tonton Macoutes.
Multiple videos show that the self-defense groups kill suspected gang members only after they search them, find evidence (often weapons and information on cell phones), and then extract a confession. Nonetheless, such a crass method of justice can easily misfire against an innocent. This reportedly happened in the Gros Morne province, where two people were mistaken for gang members and killed.
Miscarriages of this form of mob justice notwithstanding, it is clear that the fearsome spectacle of an enraged multitude engulfing and dispatching armed criminals has been effective, as kidnappings in Haiti are reported to have dropped to zero since the movement began two weeks ago.
People and police
Up until the Canapé-Vert incident, the police had been a largely ineffective fighting force, plagued by corruption. In wealthy mountain neighborhoods like Pétionville, Thomassin, and Laboule, off-duty police officers moonlight as private security to protect residents from gangs, charging exorbitant prices. Tim Schwartz, an American anthropologist based in Haiti, described the arrangement as a "classic protection racket."
An exception to that phenomenon is Jean Ernest Muscadin, a government commissioner in the Miragoâne commune on Haiti's southern peninsula. He has taken an ironfisted approach to the gang problem and maintains a high profile in the country as a no-nonsense sheriff, who has carried out summary executions of suspected gang members.
Haiti's other prominent crime-fighting figure is Jimmy Cherizier, the former special-forces cop who heads the Revolutionary Forces of the G9 Family and Allies (FRG9), an alliance of anti-gang armed neighborhood committees (comités de quartier) or "vigilance brigades." While Muscadin has no particular political message, Cherizier has called for the overthrow of Haiti's bourgeoisie and what he calls their "stinking, rotten system." Instead of "5% controlling 85% of the nation's wealth," he calls for a system where Haiti's resources are shared by all, or "everything for everybody."
The Bwa Kale movement has forced the police to shake off their apathy and act, renewing popular support for the beleaguered force.
The week before the Canapé Vert lynching, the cops killed gang leader Maçon "Ti Makak" Silencieux and many of his soldiers, who had terrorized the largely middle-class and bourgeois zones of Laboule and Thomassin.
On Apr. 30, after several days of Bwa Kale attacks on criminals, the PNH announced that it had intensified operations in several gang-controlled areas including Village de Dieu and Grand Ravine. Village de Dieu is controlled by Johnson "Izo" André, leader of the 5 Seconds gang. A vicious kidnapper and killer, he is particularly hated by the police for his gang having killed four police officers in a failed March 2021 anti-gang operation. Police have concentrated their efforts on dislodging him, and rumors that Izo was shot and wounded have circulated, though they remain unconfirmed. (A recent defiant video Izo posted, purportedly from Cabaret, belies the rumors.)
While Muscadin has no political message, Cherizier has called for the overthrow of Haiti's bourgeoisie and what he calls their "stinking, rotten system."
Grand Ravine is under the thumb of Ti Lapli, leader of his own kidnapping ring. Along with Ti Gabriel of Cité Soleil, Vitel'Homme Innocent of the Kraze Barye (Break down the Barrier) gang, and the 400 Mawozo, these groups comprise the G-Pèp criminal alliance.
Notably, the police announcement did not mention targeting any neighborhood controlled by G-Pèp's bitter enemy, the FRG9. Ironically, the United States and its allies have singled out Cherizier as Haiti's scourge, falsely accusing him of carrying out a series of massacres, while then-U.S. special envoy to Haiti Dan Foote called to "hunt [him] down."
While a handful of elite pundits have expressed disgust at Bwa Kale meting out of mob justice, an overwhelming majority of Haitians approve, pointing to the fact that gangs have used the very same forms of terror against the defenseless population while the anemic police forces have been incapable of fighting them and the political class complicit in their crimes.
Berthony Dupont, director of the weekly newspaper Haiti Liberté, wrote in the newspaper's Apr. 26 edition, "It is not without reason that the system has fought the rebellion from a self-defense movement born in certain ghettos" while at the same time "fueling a project of banditry, criminal mercenaries, kidnapping, and assassination."
Indeed, Vitel'Homme has publicly explained how he got his start working for André Michel's Democratic and Popular Sector (SDP), the center pillar of de facto Prime Minister Ariel Henry's government.
Haitian police forces have long been outgunned by gangs armed with modern U.S.-made weapons of war, including rifles that have been used in Iraq. "Supporting the police" has become a mantra of the foreign powers (led by the U.S.) that seek to militarily intervene in Haiti. Indeed, since 2010, the U.S. has spent at least $380 million on training the police, including a specialized anti-gang SWAT unit inside the PNH.
Ironically, it is among the Haitian population that police have found that support. Multiple videos show Haitian public accompanying police vehicles to confront gang members.
"The strategy is simple," Journalist Cyrus Sibert wrote on Twitter. "Increase the pressure of the crowd on their base to compel them to fire which results in their ammunition running out. And then they will be at the mercy of the elite units of the National Police of Haiti."
Bwa Kale spreads throughout the country
The Bwa Kale phenomenon has not been limited to the capital city.
In Source Matelas in the town of Cabaret, police and residents killed at least five gang members. Days before the uprising broke out, gang members had massacred 30 people, including 13 in a single family home and eight babies. Months before, gangs massacred 20 people.
A gang member who admitted to working under the late leader of the Canaan gang, Ti Jeff, was killed and his body burned.
In the Artibonite Valley, residents of the Estère village accompanied police as they stormed the stronghold of the Kokorat San Ras gang. At least once gang member was killed in a firefight, and police and residents set fire to their houses.
Exploiting the moment
As the Bwa Kale movement gains steam, the G-Pèp is seeking to turn it on its head to target Cherizier and the FRG9.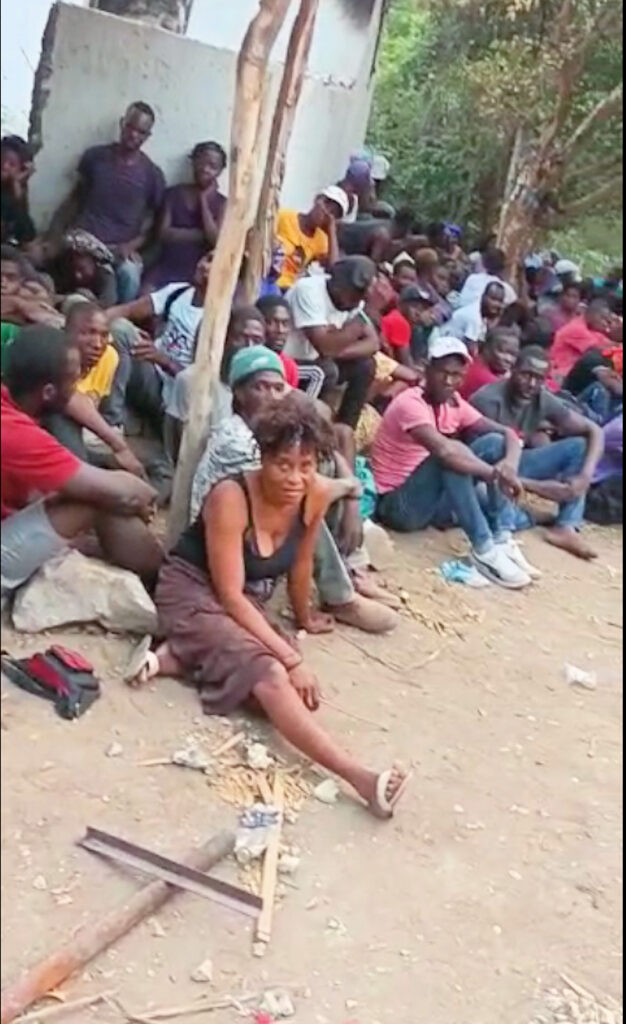 On Apr. 26, G-Pèp members in Belair (which has become Port-au-Prince's kidnapping center) and Ruelle Maillart launched fierce attacks on Cherizier's Lower Delmas neighborhoods, beginning several days of armed clashes between the neighborhoods. According to Cherizier, one man was killed and another wounded in combat. These gangs of Belair and Ruelle Maillart have long terrorized residents of Delmas 2, 4, and 6, despite Cherizier's repeated appeals for a truce, as Uncaptured Media and Haiti Liberté documented in the November 2022 documentary series Another Vision: Inside Haiti's Uprising.
On Apr. 30, Vitel'Homme, complained that the Bwa Kale movement is not targeting the FRG9.
"In the moment that those guys say they are carrying out Operation Bwakale, we see that the G9 is progressing, the G9 is hitting a lot of territories, the G9 is capturing ground, we don't see the police say anything about that."
This propaganda effort has found a willing ally in the U.S..
A video from the Brooklyn neighborhood of the Cité Soleil slum, which is controlled by head of the G-Pèp criminal alliance Gabriel "Ti Gabriel" Jean-Pierre, shows a demonstration asking the government to target Cherizier.
Haiti Info Project, a Twitter account run by California-based radio producer Kevin Pina, claimed that the demonstration "is part of larger movement of the popular neighborhoods now challenging paramilitary gangs across the country."
However, as one resident of Brooklyn told me, that demonstration would not happen without the local criminal group's blessing. "You can't demonstrate without approval from the gang on the block," he said.
The source, who requested anonymity, added that the Bwa Kale movement is autonomous and does not make requests to the government as the demonstrators do in the video. "Bwa Kale can be considered as a demonstration with machetes looking for gangs. But the one in the [Cité Soleil] video is a demonstration to ask the government to act. The Bwa Kale people act for themselves."
The G-Pép attacks on lower Delmas combined with its orchestrated, non-spontaneous (and likely bourgeois-funded) demonstration of mostly children in Cité Soleil are a classic case of "the thief crying 'thief'," as a Kreyol proverb says. In fact,the Bwa Kale movement has so far exclusively targeted G-Pèp areas, since that is the federation of criminal gangs.
time will tell if its flames reach the political and financial class behind the gangs
At this time, the mobilized masses see agents of the PNH as their ally, and many videos show helmeted police officers jogging along with machete-wielding Bwa Kale crowds in search of bandits.
Tellingly, Vitel'Homme had to recognize this reality in his half-plaintive, half-blustering Apr. 30 message. He bitterly reproached the masses for not targeting the G9, while noting that "without the G9, there is no PNH. Without the PNH, there is no G9."
Indeed, many Haitian rank-and-file cops identify and sympathize with Cherizier's revolutionary message and anti-crime agenda. De facto Prime Minister Ariel Henry and the police brass, however, still want Cherizier's head, and he remains their top target.
Gang defiance and hostage taking
The G-Pèp's criminal gangs have also put out several videos on social media, challenging the PNH and the Bwa Kale crowds to come get them, much as Izo did in his May 4 video.
Jeff, the head of the brutal gang based in Canaan and Onaville just north of Port-au-Prince, made a video surrounded by his soldiers brandishing their weapons "We are the Taliban, Team Crime. Here are the beasts," he said, patting his assault rifle. "All those who is frustrated, bring it on."
Gangs have also taken hostage dozens of people, including their neighbors, and threatened to kill them if the police and their Bwa Kale escorts don't back off. "I will take all these people and kill them and leave them in the middle of the road," a gang leader says in one chilling video as he pans across a large crowd of apparent hostages squatting and sitting on the ground. In another video, a gang leader threatens to kill a large crowd of hostages whom his soldiers intercepted, along with their vehicles, on the roads in their area.
Another video shows a gang executing a woman who was in some way Bwa Kale-linked.
Elite consternation
As the anti-crime movement moves ahead, Henry has sought to dissuade the population from taking matters into their own hands.
"We understand you are fed up. But don't let bad plans let you act like you're in charge.. Stay cool headed, like they have in Cap Haïtien, hand in hand, the police with the people, tie up all the bandits and hand them over to the courts," he said in a public address.
However, in Cap Haïtien, former mayoral candidate and businessman Fritzgerald Vixamar has issued an appeal for diaspora groups to fund the purchase of machetes for Bwa Kale groups.
According to Cyrus Sibert, the ruling class – many members of which fund and control gangs – worry that the Bwa Kale movement could target them. "The oligarchy and the international [community] do not like this movement which risks being revolutionary," he wrote.
While the Bwa Kale phenomenon burns, only time will tell if its flames reach the political and financial class behind the gangs, or if it flames out as fast as it started.
---
This article is an updated version of one first published by Uncaptured Media.